Refitted plant room saves £45 000 a year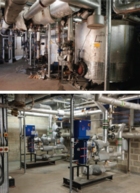 St George's Hospital in Tooting is saving £45 000 a year by upgrading its heating and hot-water systems from calorifiers to plate heat exchangers. Five EasiHeat systems from Spirax now serve the Lanesborough wing of this 1000-bed hospital. Three provide heating and two deliver domestic hot water in a duty/standby arrangement. Heating was previously provided by three shell-and-tube calorifiers and hot water by four more calorifiers. The £45 000 savings are a combination of improved energy efficiency and reduced maintenance.
Heating and hot water are now delivered on demand, eliminating the energy losses from hot water stored in calorifiers.
The EasiHeat plate heat exchangers also include a second-pass condensate cooler to help condense the steam and encourage more efficient heat transfer.
The need for calorifiers, as pressure vessels, to be stripped down for insurance inspections every two years has reduced maintenance costs. EasiHeats are exempt from insurance inspections.
An EasiHeat system comprises plate heat exchanger, controls and other ancillaries in a packaged system that is factory tested. The touch-screen panel makes it easy for maintenance staff to make adjustments and check the status of the units.
Related links:
Related articles: