Electronic ballasts for metal-halide HID lamps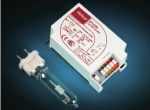 Helvar's HID range of electronic ballasts for metal-halide lamps has been introduced to satisfy the increasing demand for energy-efficient lighting and the prevalence of electronic ballasts in modern luminaires. The range comprises the EP-h electronic ballast for 20, 35, 70, 100 and 150 W metal-halide lamps for indoor lighting.
These ballasts have an A2 energy-efficiency classification to save energy compared with traditional magnetic ballasts. They can withstand transients of over 4 kV.
When developing this component, Helvar was mindful of the protection against supply transients and minimised the number of components to use the latest IC technology. The result is ENEC and EMC certified.
Related links:
Related articles: