Monodraught features in sustainable award-winning visitor centre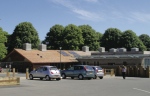 Monodraught Windcatchers and Suncatchers played a key part in a new visitor centre at the headquarters of Durrell Wildlife Conversation Trust in Jersey winning an architectural award as 'Jersey's best innovative and/or sustainable design of 2011'. An important element of the overall sustainability objective is the mixed-mode heating, ventilating and environment control system developed for the project, which includes a Monodraught natural-ventilation and natural-daylight strategy.
Peter Cadiou of M&E consultant Jersey Energy explains, 'The trust felt that it was important as part of the overall environmental philosophy to provide visitors with a strong visual identity for the building to reflect the trust's environmental integrity. We believe the combination of five active Monodraught Windcatcher natural ventilation systems, eight Sunpipe natural daylight systems and two Suncatchers, which combine the best of both technologies, achieve this admirably by providing a strong environmental signature for the finished building.'
The Windcatchers (three active systems in the main retail area, one in the main entrance and another in the cafe) are linked to a Monodraught INVent ventilation control system to achieve a flow of fresh air that works with window louvres during warm months in Spring and Summer and peak operational periods. In Winter and Autumn months, the system changes to mixed-mode operation using air-source heat pumps to provide heat.
An important objective was to retain the energy and environmental footprint of the original building, which was less than half the size of the new one.
Peter Cadiou comments, 'During the first 12 months of operation, the control strategy worked extremely well, and the trust is very please with the results the Monodraught system is achieving. Staff quickly learned to adjust operating procedures to maximise the many benefits of a brand new building that adapts to changing environmental conditions and occupancy patterns.'
The largest single space is the main retail area, which has eight Sunpipe natural-daylight systems to provide energy-free light throughout the year and create huge visual impact on bright sunny days.
To balance the visitor environment when the natural-ventilation system are in passive mode, two Monodraught Ventsair exhaust systems are connected to the centre's air-handling plant.
Related links:
Related articles: