Wolseley prepares to start construction work on new distribution centre
Published: 19 June, 2005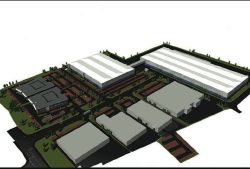 To increase the capacity of its UK distribution network, Wolseley is to build a 31 600 m2 distribution centre at Leamington Spa.
Plans for distributor Wolseley UK to building its national distribution centre at Spa Park in Leamington Spa have been approved.
The 31 600 m2 centre will be next to the company's spectacular new headquarters building, due to be completed in August, on a 7.3 ha brownfield site near the M40.
The £100 million investment increases the capacity of Wolseley's distribution network, enabling fast nationwide delivery of its vast range of products through its 1500 branches.
Adrian Barden, managing director of Wolseley UK says, 'The investment is part of a broad programme of activity designed to safeguard our position as industry leaders by providing the capacity we need to continue our rapid growth.'
comments powered by

Disqus