Commissioning issues for building-management systems
Open systems increase the complexity of building-management systems, making their commissioning a more demanding process. JOHN REID examines the issues.As a development project approaches completion, there is no fact more certain: than that the potential owners will not accept the building if the building-management system is not functioning perfectly in every way.
Critical
Achieving that degree of operational efficiency is the responsibility of the commissioning engineer and his team. Everyone's role in the design and installation of a building -management system is naturally vitally important, but the activities of the commissioning team are critical. They are crucial to the smooth handover of the project. They are the people who bring together the ever-increasing number of elements of the operation of a building. As open systems lead to greater integration of functions within a development, so the complexity of the BMS is increased, and the requirements placed upon the commissioning engineer are enhanced. In a perfect world, all trades and disciplines will have liaised with each other throughout the project; equipment will have been delivered on time; construction will have proceeded to plan; the weather will not have caused any disruption; and the interface schedule will have been adhered to. In those instances the commissioning engineer's tasks are complex, but straightforward. But how often is there a perfect world in the construction industry? At Integrated Control Systems we produce an interface schedule and an associated questionnaire at the outset of a project. It is in the public domain, so all concerned are aware of issues and should be able to react appropriately as the contract progresses. We feel, when creating the schedule, that we make it as logical as possible — accounting for every eventuality we can foresee (particularly ensuring competing activities do not take place at the same time).
External influence
However, so many external influences impact upon the programme that circumstances change, and no matter how we manage the works, achieving the various elements of the commissioning schedule on time becomes difficult, if not impossible. What does not change is the hand-over date — an appointment in the diary that may only be altered under the most unusual of circumstances. This provides the biggest headache for the commissioning engineer — for it directly impinges on the amount of time available to complete the job. To claw back lost time, we are often asked to commission equipment out of sequence, something that is far from ideal and usually costly as it results in two or even three visits to undertake the same activity.
Dedicated team
It may appear to be common sense that the commissioning process is best achieved in sequence, yet we have been asked to commission plant without the controlled medium.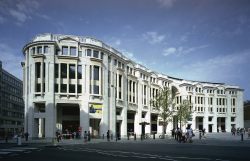 The best way to achieve a snag-free installation is to dedicate a team who can be pro-active whilst commissioning the plant and liaise with all complementary trades to rectify items in the process. In fact, great store is placed by many on being pro-active and establishing the issues that crop up between trades in an attempt to ensure that the commissioning engineer is not running round deciding what should be connected to what; unfortunately the objective is not always achieved. Counterforces abound throughout a construction project. Different people wish to undertake different tasks in different ways, and they are not always complementary, no matter how many procedures are put in place to mitigate the risk. As a result our commissioning engineers are left attempting to monitor and assess systems that have not been brought together in totality.
Forward planning
Meticulous forward planning and a constant flow of accurate information between parties during installation is therefore essential if the commissioning process is to be smooth. The project team should manage the flow of information, ensuring that all parties are made aware of important issues early. They should never be left to commissioning time. At Integrated Control Systems we manage as much of the process as possible internally and build offsite testing of software and dry runs of hardware into the programmes to reduce the danger of the commissioning engineers starting with a blank sheet of paper and having to make changes on the hoof. Having painted a picture of difficulty and despair, I have to stress that all is not lost in the world of commissioning. We are seeing more and more independent commissioning managers, which should be a good move, and we can make greater use of advances in technology. Web-based solutions such as posting software and graphics on company web sites are of great help, as are wireless links from laptops that enable us to obtain equipment schedules and technical details and send and receive electronic information. The use of PDA to commission plant on floors has also proved extremely useful.
Recognised concern
These experiences all reflect a drive within the industry towards mitigating commissioning problems — it is a recognised concern that is being addressed. Let us hope, for the sake of the blood pressure of the commissioning engineers across the country, it is addressed sooner rather than later.
John Reid is managing director of Integrated Control Systems, Unit 2, Millars Business Centre,, Fishponds Close, Wokingham, Berks RG41 2TZ.
Related links: