Increasing the quality of apprenticeships

Last year the Government confirmed its support for the more employer-focused apprenticeship approach, recommended by Doug Richard in the Richard Review of Apprenticeships, by launching a widespread apprenticeship reform programme.
The reforms include a number of key measures to make apprenticeships more rigorous and more responsive to employers' needs, increase the quality of apprenticeships, put employers in the driving seat and to simplify the current system to one where standards are shorter and easier to understand.
To kick-start the review process across England, eight industries have chosen as 'Trailblazers' – projects that are moving quickly to develop examples of the new system working in practice, that can then be used as best practice models to provide a foundation for full implementation of the reforms.
In November 2013, the electrotechnical industry was chosen as one of these Trailblazers and has since been working to review the Installation Electrician and Maintenance Electrician apprenticeship standards, in line with the Government's implementation plan.
The implementation plans sets out a number of key areas upon which the revised standard needs to be based. In future, the new employer-led Apprenticeships, which will replace the current frameworks, will be short, easy to understand documents and will be based on standards designed by employers to meet their needs.
Assessment will focus primarily on testing competence at the end of the Apprenticeship. The assessment will be against the relevant standard, and employers will have a key role in developing the high-level assessment approach. Grading will also be introduced to Apprenticeships - pass, merit and distinction.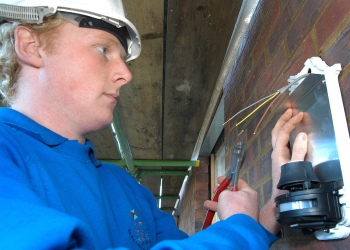 English and Maths requirements will be stepped up gradually, reflecting the importance of these transferable skills. The Apprenticeship should also enable and encourage registration with the Engineering Council as Eng Tech, which will encourage continuing professional development as well as ensuring competence.
The view of the working group established to review the apprenticeship – led by the Institution of Engineering & Technology and comprising a number of industry employers along with the Joint Industry Board - is that the current apprenticeship, while capable of improvement, is close to what is required. So the approach has been to build on what is good in the current framework, rather than start with a blank sheet of paper.
The revised standard has been open to consultation, and SummitSkills has responded with our views to help make the electrotechnical apprenticeship the best it can be. With the intention that apprentices will start on the new programme by January 2014, we look forward to seeing how the project progresses.
Nigel Hollett, General Manager
Related links:
Related articles: