Lochinvar introduces larger storage vessels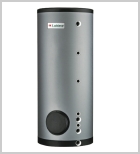 Lochinvar has added larger-capacity models to its range of LST direct storage vessels. There are now 10 models with storage capacities from 312 to 2820 l. These units can also be installed with packaged plate heat exchangers where a buffer storage capacity is required to meet peak hot-water demand.
These storage vessels are used with circulating type water heaters, a concept that has been a popular choice for medium and large commercial projects and also for industrial applications for many years. They can work with water pressures up to 8 bar, making them suitable for high-rise buildings.
LST vessels can be fitted with electric immersion heaters to provide an alternative fuel back-up.
Standing losses are very low, and each vessel can be fitted with A-rated soft jacket insulation if required.
Related links:
Related articles: