The 60-year 'revolution' goes on

As Durapipe celebrates its 60th anniversary, Mitchell Holmes, looks at the development of plastic pipework in the building-services sector
From a standing start more than 60 years ago, plastic pipework systems have developed rapidly in the building-services sector — yet there is still a long way to go before they are considered on an equal footing to 'traditional' metal materials. With a majority market share, 53% of buried pressure and non-pressure pipework installations are in plastic material, yet they are still labelled as 'new', 'modern' and 'unproven'.
The plastic pipework journey has been a dramatic one since the first pressurised plastic pipes were installed for drinking water applications in the 1950s. During the next decade, the housing development market embraced the use of plastic materials and began to introduce plastic rain water pipes, guttering and down pipes.
It was the 1970s when plastics began making further in-roads in the building services sector as the use of CPVC for hot and cold plumbing systems was launched.
Technological developments in the 1980s saw a change in the manufacturing techniques of drainage pipes, with twin-wall and multi-wall pipes being launched. This was followed by the introduction of spirally wound pipes, signifying a major advance in technology, which allowed bespoke pipes to be manufactured and customised to individual requirements.
Despite plastics' increased presence in domestic properties, it wasn't until the late 1980s when they began to steadily increase their penetration of commercial and multi-occupancy buildings.
In the 1990s plastic plumbing pipework was first used in underfloor heating systems, and it was this growth that led to a rapid rise in specifications for plastic pipe in main hot and cold water applications. As products became more widely available through builders and plumbing merchants, the uptake of plastic plumbing systems grew — with the new-build housing market the main user. Flexible plastic plumbing systems benefitted the most due to the installation benefits they offered.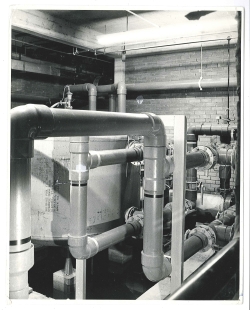 From 2000, the use of plastic pipework in the new-build housing market rocketed. In 2001, 7% of new domestic properties were built using plastic pipework for the hot and cold plumbing systems; by 2007, the proportion had increased to 90%. By the end of the decade, soil systems with high acoustic performance properties were developed, increasing their usage in high-rise apartments and multi-occupancy buildings, where noise from sanitary installations needs to be kept to a minimum.
Since 2010 plastic pipes have benefitted from increases in the price of copper. as the material prices of copper have steadily risen, so too has the scrap metal value, leading to construction sites up and down the country experiencing metal thefts. In addition, prices quoted on tenders for major projects soon became unviable as the price increases of both copper and steel eroded any profit margins built into jobs. Specifiers, consultants and contractors have been left with no choice but to look at alternative materials; with plastic having no scrap value and offering installation cost and time savings, specifications of plastic pipe systems have increased.
Despite plastics being used in the building-services sector for over half a century, there are still many within the industry who consider plastic as a 'new' and 'unproven' material. It is therefore the role of manufacturers of plastic pipe systems, to continue to raise awareness of the performance and financial benefits offered by plastics.Similarly, the new generation of M&E consultants can help accelerate this acceptance by embracing product innovations and acknowledging the technical performance of plastics, so it is vital these individuals are made aware of all the options available to them. Durapipe, in conjunction with training bodies, trade associations and main contractors, has been working hard to educate trainees entering the industry on all of the pipework systems on the market to ensure they are familiar with both metal and plastic products.
Innovation is key to success, and manufacturers of plastic pipework will continue to develop pioneering new pipe systems that meet the needs of today's demanding buildings — but it will be their ability to work with new construction methods that will see their use increase. Modular construction and off site pre-fabrication is a technique that is only set to increase in popularity because of the quality and performance control it offers. Manufacturers therefore need to be prepared and adapt their systems to meet this change and build on plastic's inherent benefits of being lightweight and easy to handle resulting in quicker and simpler on-site connection.
Sustainability is also a big consideration, with contractors now under pressure to demonstrate sustainable practices on every tender. By highlighting the reduction in carbon footprint and increased energy efficiency that is possible through the use of plastic pipework systems, plastic manufacturers will be better placed to argue the case for a plastic specification.
Plastic pipework systems have come a long way in the last 60 years, and Durapipe has witnessed some significant developments as plastics have steadily taken market share away from metals year on year. However, it is time plastics were readily considered alongside their metal counterparts, and we will continue to educate the industry and communicate the benefits plastic pipework systems can offer to contractors, installers and end clients to see this happens.
Mitchell Holmes is commercial director with Durapipe.
Related links:
Related articles: