Bristan's specifier brochure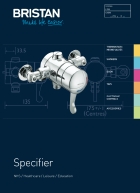 Bristan is making specification simpler for commercial customers with a new specifier brochure and updated web site. The web site and brochure enable users to search for the items they need by product type or by the specialist sector they will be used in. The collection of taps, showers and accessories includes solutions for healthcare, NHS, education, sport and leisure.
The specifier brochure includes a preview of new products to come, as well as case studies, information and advice on the latest legislation for key commercial sectors.
The web site has a new look and improved navigation. There is lots of information about Bristan's customer service offer — such as after-sales support, spare-parts service and its technical helpline.
Related links:
Related articles: