Variable-speed drives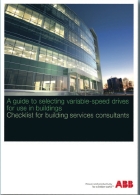 A checklist to help consultants specify the most up-to-date variable-speed drive (VSD) has been compiled by ABB. Called 'A guide to selecting variable-speed drives for use in buildings', it highlights the VSD features that provide effective building control and performance from the HVAC system.
Modern drives are more efficient than older versions, quicker to install and commission, and quieter.
Features such as a BACnet interface and the integration of serial communications dedicated to HVAC protocols offer greater adaptability and connectivity with building-automation networks.
Features of particular benefit to the building-services sector include the ability to pre-program drives with several HVAC-specific application macros such as supply-and-return fans, cooling-tower fans, booster-pump sets and condensors. Connecting drives to an HVAC system is made easy by selecting pre-defined HVAC macros or by simply connecting to one of several build-in field-bus options.
A useful feature of modern drives is being able to copy settings for back-up or downloading to another drive.
The checklist is available from the e-mail address below. Put 'Checklist for building services consultants' in the subject line.
energy@abb.com
Related links:
Related articles: