Altecnic simplifies prepayment capability for heat interface units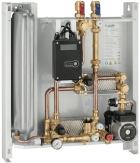 Altecnic is cutting the cost of and simplifying the installation of pre-pay heat-interface systems for heating and hot water with its prepayment-compatible HIU. Altecnic has upgraded the HIU firmware and added a connection to the HIU's integral control to allow for direct wiring or, via an optional module, to third-party prepayment systems.
In operation, isolation of the primary system is now achieved by the already-existing HIU integral electronically controlled valves. This means that the motorised valves that are normally installed outside the HIU are no longer required — reducing installation costs by at least £95.
If a system runs out of credit or the landlord wants to turn off an apartment's heating and hot water, the control valves are closed.
All SATK20 and SATK30 heat interface units now have this functionality built in as standard. The prepayment option can easily be retrofitted at any time.
Related links:
Related articles: