Ridi extends Linia Flat range of LED lighting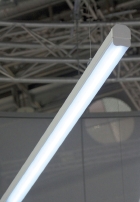 Ridi has added three variations to its Linia Flat range of LED lighting that is specifically designed for teaching spaces, work-space and office applications. The three new diffuser options offer LED solutions for surface or suspended lighting systems for a minimalist office or classroom design scheme.
The W version offers wide light distribution via its opal plastic diffuser.
MP has a prismatic lens that will add attractive sparkle to lighting schemes.
BQP is a low-glare option.
The Linia wiring system is offered in 5, 7 or 11 core, which allows multiple switching, dimmable and emergency options to be provided.
Related links:
Related articles: