Delivering successful biomass-boiler projects

The emerging industry for biomass has been hampered by lack of specialist expertise and comprehensive technical guidance. Colin Ashford gives an insight into how a CIBSE application manual will help.
The Government expects biomass to play a significant role in meeting the UK's legally binding decarbonisation targets to 2050, but this emerging industry has been hampered by lack of specialist expertise and comprehensive technical guidance. CIBSE (Chartered Institution of Building Services Engineers) has published 'Application Manual AM15: Biomass heating'. It is available as a free download, and covers small to medium size commercial installations.
Anyone considering the installation of biomass heating should be aware of a November 2014 UK Government report* which identifies that only 27% of existing biomass heating installations are 'working well', suggesting that there are over 5000 installations that need improvement. This is not just an issue of performance, but also of safety — with the dangers of badly installed systems ranging from explosions due to build-up of flue gases, to carbon monoxide poisoning and farmer's lung.
AM15 has incorporated experience from more than 160 successful installations and provides detailed guidance on how to achieve safe, reliable and efficient operation.
The publication starts by identifying the tasks, duties, skills and responsibilities of a 'biomass designer'. This is a professional engineering skills set needed to properly interact with clients, planners, architects, structural engineers, installers and commissioning engineers. The performance in use achievable by competent design and operation is then identified.
Chapters 2, 3 and 4 cover fuel types — concentrating on wood chips and pellets, fuel storage, fuel delivery and boiler type selection. There are significant health-and-safety issues with pellet storage, notably release of carbon monoxide into the fuel store so adequate ventilation and access control are required. The stages of biomass fuel combustion and how careful combustion control is needed to optimise fuel efficiency are described. Boiler types and their operating characteristics are explained, and it soon becomes apparent that boiler-type selection needs to be an informed process.
Chapter 5 looks at the importance of thermal buffer storage and how correct selection and sizing of thermal storage is important if there is to be efficient conversion of biomass fuel into useable heat. A link is made to the Carbon Trust 'Biomass decision support tool' that facilitates the sizing of biomass boilers and thermal storage for a range of heat-load types and overall capital costs. It is soon realised that biomass boiler system design is far removed from the simplicity of oil and gas fossil fuel boilers systems.
In design terms we are now dealing with bivalent systems where the high thermal capacity and relatively slow response of the biomass boiler needs carefully integrated hydronic arrangements if we are to have properly controllable systems. For many years, designers have had the luxury of simple system design where oil and gas boilers have a fast response to calls for heat and comparatively limited thermal capacity to be dissipated when firing ceases.
Some quite fundamental system-level design issues now arise, because most biomass boilers have high thermal capacity and a slow response to calls for heat.
Chapters 7 and 8 identify how biomass boilers can be connected in series or parallel with fossil fuel boilers and controlled such that biomass fuel is the lead fuel — important if the biomass boiler is installed to minimise the carbon impact. Typically, optimal matching of boiler type and sizing of thermal storage enables a biomass boiler sized at 40% of peak load to supply over 90% of the annual heat requirement. Biomass boilers can also be configured with appropriate hydronic systems to supply low-temperature systems such as used in horticulture. Chapter 8 looks at control arrangements, with an emphasis of ensuring that the hydronic (hydraulic pipework and pumping configuration) arrangement achieves simple controllable systems that are easy to understand and control.
Finally, AM15 provides advice on flue types, configuration and design. Flue gases from biomass boilers contain Polycyclic Aromatic Hydrocarbons (PAH). The World Health Organisation (WHO) has identified that there is no safe lower exposure limit for humans to PAH. For this reason, biomass flues must be designed such that no-one smells biomass flue gases under any operating conditions. Flues must be designed to achieve negative pressure operation under all operating and atmospheric conditions.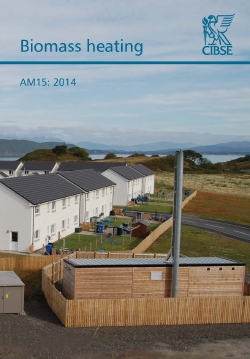 Biomass boilers operating in slumber mode have a fire-bed operating under air-starved conditions, with gases above the fire bed in slumber mode in an explosive mixture of carbon monoxide and wood volatiles. For this reason, flues for biomass boilers must maintain a negative pressure under all operating conditions such that the explosive mixture is safely removed. Flue fans must be avoided. A key problem is the potential for explosions when the boiler receives a call for heat; we have a lit fire-bed and a flue full of an explosive mixture! There have been several reports of burst dust cyclones and draught-control dampers blown across boiler-houses.
I estimate that to meet UK energy targets, training of approximately 400 'biomass designers' to professional engineering standards as identified in Chapter 1 of AM15, plus up to 4000 technician-level operatives will be needed. To help the biomass industry achieve reliable and efficient operation, CIBSE is working to develop training courses for 'biomass designers'. These will cover the guidance in AM15 together with hard-won experience of the errors and problems which cause only 27% of installed systems to 'work well'.
Colin Ashford was chair of the AM15 steering committee.
Thanks are due to the following.
• David Palmer of the Campbell Palmer partnership as the principal author of AM15.
• Jim Kinnibrugh of Kamintech for his input on what works well for flues in Austria and Germany.
• Graham Smith of Birling System Design for his insight into controllable systems and controls.
---
* November 2014 DECC report 'Desk-based review of performance and installation practices of biomass boilers': https://www.gov.uk/government/publications/desk-based-review-of-performance-and-installationpractices-of-biomass-boilers
Related links:
Related articles: