Heat pump can provide hot water at up to 90°C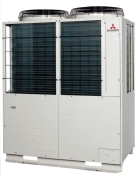 MHI's Q-Ton air-to-water heat pump uses CO2 as the refrigerant and can heat sanitary hot water at up to 90°C. These 30 kW units can achieve a COP of 4.3. Water can still be supplied at 90°C with an ambient temperature down to -25°C. 100% capacity is maintained down to -7°C. A single 30 kW heat pump can produce up to 6000 l of hot water a day.
Q-Ton heat pumps have a 'scrotary' 2-stage compressor that combines scroll and rotary technologies.
Hot water can be produced using cheap night-time electricity and stored in a tank for daytime use.
Up to 16 units can be connected in a modular configuration to give 480 kW and connected to hot-water storage tanks.
Related links:
Related articles: