ErP — the next chapter in energy efficiency
With the new requirements of the Energy related Products (ErP) Directive set to come into force from September of this year, Pete Mills, of Bosch Commercial & Industrial Heating explains how it sits alongside the Part L and encourages commercial heating engineers to make sure they are continuing to put best practice first.
As part of the European Union's commitment to reduce carbon emissions, the introduction of the ErP Directive in September 2015 means manufacturers and consequently installers of all energy consuming products will have to adhere to a new set of minimum requirements.
The manner of the directive's introduction means that energy related products — including commercial fossil-fuel boilers rated with a 70 to 400 kW output — fall into the qualifying category, Lot 1. The directive prescribes significant improvements in boiler efficiency levels, so it effectively rules out the installation of all non-condensing boilers up to 400 kW. This will, without doubt, have a huge impact on the market for commercial boilers.
It is only natural for any significant change to standards to be met with a degree of scepticism, but our experience of the switch to condensing boilers in the domestic market nearly a decade ago tells us that a seamless transition is perfectly achievable. Not only that, but much like the shift to domestic condensing boilers, the ErP Directive for commercial has the potential to be make one of the biggest contributions to UK emissions targets to date.
Although the new efficiency targets ultimately relate to the boilers installed in new or existing buildings, this has consequently also laid down the gauntlet to boiler manufacturers. To ensure there remains sufficient demand for their products, each boiler naturally has to meet the new targets as soon as it leaves the production line.
Prior to now, a great deal of discussion has centred around the arguable disparities between Part L of the Building Regulations and the ErP Directive, and it is important for manufacturers and installers of commercial boilers to be aware of what the requirements will mean for installations from September onwards.
Looking at the efficiency requirements of a commercial boiler under the new requirements of the ErP Directive, an efficiency of at least 86% is required for a boiler operating at part load and at least 94% for a boiler operating at full load. These guidelines may appear perfectly sound at first glance, but confusion begins to arise when these figures are compared to the Part L requirements put in place from April of last year.
By comparison, under Part L, a single commercial boiler installed in a new building must boast a seasonal efficiency level of 91%; for an existing building this equivalent figure is 82%. This admittedly indicates a slight, but nonetheless significant, difference between the two sets of requirements.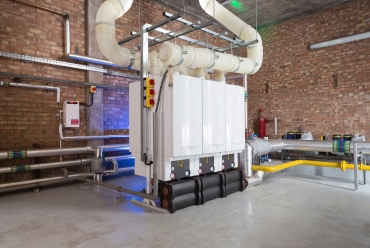 Whilst the minimum efficiency levels prescribed by the two schemes may differ, we must remember that both the ErP Directive and Part L need to be applied in their own right, rather than being considered separately. By 26 September 2015, when the ErP requirements go live, installers of commercial boilers will need to adhere to the higher level of efficiency for the project in question — regardless of where that figure originates from.
In actual fact, if the Part L approach to calculating gross seasonal efficiency is applied to the standards of ErP's Lot 1 (94% part load and 86% full load), the equivalent seasonal efficiency is 92.5% without differentiation between new or existing buildings. It is this figure boiler manufacturers must exceed by law for those products supplied after the new regulations come into force.
Ultimately, ErP Directive's standards will effectively govern the efficiency levels of the products placed on the market. As a result, this should mean installers of commercial boilers are able to meet the requirements of Part L by default.
Another area found to heighten concerns within the building services sector is the concept of replacing a boiler component 'like for like. Although a full replacement post-September will require the new boiler to exceed ErP standards, it would appear that concessions will be made in the event that a single component needs to be replaced. As far as a boiler is concerned, this could be as simple as replacing a burner with a compatible model of the same type, even if it does not necessarily meet the new guidelines. Inevitably this comes on the condition that the concession will only apply until 2020, but the move will at least offer a degree of practicality for those tasked with repairs.
The installation of a new or replacement heating and hot-water system is never a simple procedure. With installers soon required to not only calculate the efficiency of the installed system but also to provide an energy label for the product, the process could become all the more challenging. Through close liaison with manufacturers, commercial heating engineers can ensure they are compliant with the new standards as soon as they come into force.
Pete Mills is commercial technical operations manager with Bosch Commercial & Industrial Heating
Related links:
Related articles: