Smoke detection for large spaces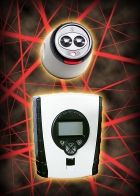 A single Fireray 5000 reflective-beam smoke-detection system can protect an area of up to 1500 m2 with wiring to only one point, compared with over a dozen ceiling-mounted point detectors or the cost and disruption of ceiling vents for an aspirating smoke-detection systems. Applications include sports halls.
A reflective-beam system comprises a transmitter and receiver in one unit, with a small prism at the other side of the space to reflect the transmitted beam.
For situations where obstructions on the ceiling could interfere with the beam path, an end-to-end system such as the Fireray 3000 provides a solution. Extraneous reflections near the path of the beam do not affect the effectiveness of the system.
Related links:
Related articles: