Efficient — and more

While the energy efficiency of LED lighting systems is a major attraction, Chris Skinner of Trilux Lighting highlights their many other benefits.
It is fair to say that when building owners and managers are looking to save energy, lighting has been one of the first areas they consider. If the building and its lighting are old enough, changing out the fluorescents for something more up to date can certainly save significant amounts of electricity. This is not to say that LED luminaires are restricted to older buildings, new builds can also massively benefit from an LED design.
However, lighting is far more than just the low-hanging fruit in an energy-efficiency strategy. The right lighting system can offer a number of other benefits that enhance the value of a building and improve the experience of occupants as well as helping to increase productivity.
The development of LED technology means that leading manufacturers can create light fittings that are thinner and in a vast range of shapes. Lighting designers can be far more flexible in how they think about lighting, whether it's an office, hospital or library. In some ways, only the standard ceiling sizes (e.g. 600 by 600 mm) restrict the shape and size of lighting that can be used.
This means that as well as saving energy, today's lighting can also save space. Fluorescent panels required a fit-depth of 60 mm, which took up ceiling space. And in some cases the ceiling might even be too small to accommodate that. Now with the low profile of LEDs, we can save on space, which can be a significant factor when we consider the trend towards high-rise offices in our cities.
Since LED lighting generally weighs less than its fluorescent predecessors, this can also be a factor in saving money. For example, if we consider LED street lighting, they tend to be smaller and more compact luminaires. This means there is less wind loading on the light and so the costs of the column and concrete base can be reduced. This is something that adds up to significant sums if you are lighting a number of streets.
LED lighting can do more than simply reduce costs; it can enhance the value of the building too. By offering a highly flexible and more advanced form of lighting technology, a building can respond better to occupant needs. For example, in a hospital or care home environment, lighting can support better patient health.
During the day, it is possible to use 'cool' lighting and then move to a 'warmer' light in the evenings. It is particularly useful for dementia patients because this use of lighting means they are less likely to sleep during the day, which has been shown to cause disorientation.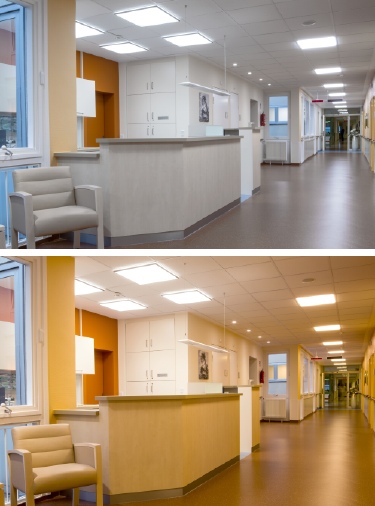 The retail sector has been well aware of how lighting can support the customer experience for some time. LEDs offer further capabilities. For example, a cluster of LEDs in a spotlight can be used across a range of areas to enhance each product type — warm yellow for bread and reds for the meat counter. A single LED fitting can achieve a number of effects.
There are many good reasons to consider refurbishment of a lighting system and a move to LEDs. However, although LEDs are generally more energy efficient than fluorescents, they should not be considered a panacea for all energy-use challenges. If you have a T5 installation, it is important to consider the right LED package to ensure that an upgrade is worthwhile. A sensible payback period must be top of the agenda if clients are to see the real benefits.
It's also vital to realise that in recent years, LEDs have gained popularity because they are sleek, emit less heat and offer a broad colour spectrum. But not all LEDs are equal. Product quality is enormously important; while savings in capital outlay may be tempting, cheaper products may not provide good-quality lighting and will require replacement much sooner than a well-made and certified product.
The lighting sector is developing new products at a fast pace. Each year, LEDs have lower and lower wattages and the use of fluorescents falls away. We are also looking at organic LEDs (OLEDs) as we explore the use of new materials. At Trilux we are aware of the challenge of keeping up with the latest technologies, and try to support our customers and lighting designers through training at our own academy.
LEDs offer a number of benefits for those looking for efficient lighting systems and can create a real 'wow' factor in buildings. But it's important to consider what you are trying to achieve before reaching for the latest product and to seek advice from experts who can help make the right decisions.
Chris Skinner is lighting design manager for Trilux Lighting.
Related links:
Related articles: