Boosting the efficiency of existing buildings
Faced with the need to reduce the energy used by existing buildings in the UK, Pete Mills of Bosch Commercial & Industrial Heating shares his views on the issues involved and technologies to address them.
According to predictions made recently by the Carbon Trust, around 60% of buildings that will be in use in the UK in 2050 have already been built. Whilst there is a big focus on the need for more new energy-efficient buildings to be built in the UK, this statistic raises questions about what more can be done to improve the energy efficiency of existing buildings that may have been acceptable when first built but are now proving inefficient compared to today's standards.
Whilst it is clear a lot of good work is being carried at the front end of the construction industry to improve the environmental impact of new commercial buildings, it is disconcerting to think that for every step forward we could be taking a step backwards if sufficient efforts are not being made to upgrade existing buildings.
Encouragingly, research by the Carbon Trust into the potential energy savings that can be made in non-domestic buildings has revealed that 'an estimated 35% CO2 reduction could be achieved by 2020 through cost-effective measures. This is thought to be capable of saving the UK economy at least £4 billion* as a result of taking action to improve the energy-using aspects of commercial buildings.
A number of policies that have been launched in recent years, such as the CRC Energy Efficiency Scheme, have gone some way to highlighting the need to upgrade the energy using aspects of existing buildings —from lighting to heating and cooling technologies. This has to be good news, but before savings like these can be made and measured, awareness needs to be raised to a sufficient level so that everyone involved with the maintenance and running of commercial buildings — from landlords to building and facilities managers — can take a balanced view of what's required to plan for improvements.
When tackled in a methodical way, buildings can be improved in a series of stages, as opposed to all at once, which makes the whole process more economically sustainable as well as environmentally viable over time. From a heating perspective, upgrading an existing but inefficient old system is one area where conducting a full review need not be as complicated as it might first appear and can be done in a number of ways. A logical first step is to go direct to a heating manufacturer with expertise in how to improve system efficiency in the most cost-efficient and effective ways possible.
For example, when it comes to the provision of heating and hot water in a commercial environment, as well as replacing inefficient old boilers with modern condensing and high-efficiency boilers as a first step, one of the growing trends is the installation of a 'systems alliance'. This is where a secondary or accompanying technology is installed alongside a boiler to utilise the strengths of each appliance in order to mitigate the impact of rising energy costs and increasingly stringent emissions targets.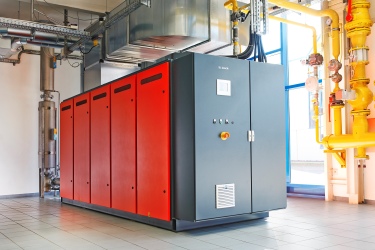 One such arrangement for applications with sufficient demand for both electricity and heat is the incorporation of a CHP (combined heat and power) module. The heat produced as a by-product of the power generated can be distributed via a thermal store, so the technology lends itself to operation alongside any other heating source — a high-efficiency boiler being one of the most common examples.
Gas absorption heat pumps present another option, and this technology represents a truly effective way of minimising emissions and fuel costs for both commercial new build and refurbishment projects. The technology utilises gas, which is around a third of the price of electricity, so running costs can be cut significantly compared to other comparable technologies such as electric heat pumps. With around 65% of additional heat generated by drawing in free energy from the surrounding air, this further enhances the overall efficiency of the system in operation.
Whilst there is now a plethora of energy saving solutions on the market that can reduce running costs and improve the energy efficiency of a commercial heating system, every building's requirement will be different. As a result, working closely with manufacturers is a logical way to ensure that minimum performance requirements for certain types of building are met, changing regulations are adhered to and that, ultimately, the potential for improving the energy efficiency of existing commercial buildings is fully considered and realised.
Pete Mills is commercial technical operations manager for Bosch Commercial & Industrial Heating.
Related links:
Related articles: