Plate heat exchangers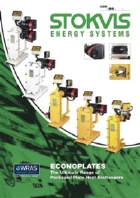 Stokvis has published a new guide to its Econoplate range of packaged plate heat exchangers. These WRAS-approved products are available in over 250 models for applications such as domestic-hot-water service, low-temperature hot-water heating, steam-to-water and swimming-pool heating.
The two fluids passing through these heat exchangers make a single pass.
For DHW applications, hot water can be provided instantaneously without the need for storage. To meet greater demands for DHW, an Econoplate unit can be coupled to a buffer vessel, which can also satisfy specific site demands such as low head or to allow for back-up immersion heaters to be incorporated.
Econopolate units are supplied packaged with, if required, primary pump and 2- or 3-port motorised control valves fitted to the primary circuit, purpose-built controls and secondary temperature sensor.
The guide includes installation diagrams.
Related links:
Related articles: