B&ES publishes guide to off-site construction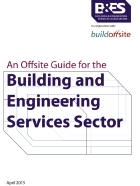 B&ES Publications has launched a guide to off-site construction, supported by the trade association Buildoffsite. The guide provides practical support for the effective use of off-site construction methods.The content is of use to all involved in the built environment — including architects, engineers, installers and clients. Using this guide, construction professionals can reduce the risks associated with building performance, productivity, health and safety, wastage and quality of a huge variety of construction projects.
Richard Ogden, chairman of Buildoffsite, comments, 'Building and engineering services are essential components of most modern buildings. What clients want are services that perform as specified and work correctly first time. From my own experience as a client I understand the importance of certainty of manufacturing excellence and the simplest possible installation and maintenance.
The future of building services will for the most part involve factory-made and tested solutions installed on site to the requirements set out in an information model.
'This guide is the route map that will provide the information to assist the building-services industry to become the vanguard in the delivery of "right first time" solutions for their customers.'
Related links:
Related articles: