Counting the cost savings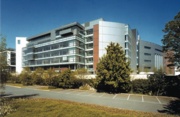 DEREK DUFFILL describes a cost analysis that shows how integrated building controls slashes both capital and running costs.There is growing pressure in the construction industry to incorporate fully integrated ICT and control systems, but do the end results justify the means? Is there any financial reward whatsoever for moving away from tried-and-trusted methods? A recent independent study commissioned by the consortium called the Converged Building Technologies Group (CBTG) has investigated in great detail the comparative costs of each method, taking into account initial expenditure and long-term benefits.
Independent survey
This work has been carried out by respected independent consultants, hurleypalmerflatt (ICT & M&E design consultants), Turner & Townsend (ICT/M&E cost and project management consultants) and Strategic ICT Consulting (strategic level ICT design and cost/risk analysis consultants). CBTG is a group of industry leaders comprising TAC UK, Molex Premise Networks and ADT Fire & Security Plc. The nature of the global economy means businesses need to be as competitive as possible in every sense. If two rivals pitch for business, but one is operating more efficiently with lower overheads, nine times out of 10 they will win the contract. Integration is more than just a buzz word — it is a hugely cost-effective approach to running a commercial or industrial building that will have real implications on the bottom line.
Common misconception
We have read and heard plenty about integrated ICT and control systems, but the common misconception is that with higher technology automatically comes an increased cost. However, CBTG's report shows that this is simply not the case. By cutting capital investment costs and long-running overheads for the life cycle of the building, integrated systems bring benefits for everyone. Even in older buildings, constructed around outdated non-integrated ICT and control systems, the initial costs of investing in more efficient systems can be outweighed by the long-term benefits. The building used for the study was based on eight floors of office and headquarters facilities, with a capacity of 1500 people and 13 500 m2 of floor space. Though, of course, all buildings will be different, the principles are exactly the same and demonstrate an important lesson in costing — both in terms of up-front capital expenditure and the costs throughout the life cycle of the building.
Holistic approach
The report took an holistic approach to building design and systems integration — looking at the design process, carrying out a project hierarchy comparison analysis, before compiling in-depth comparative figures for capital expenditure and building life-cycle costs. The report included the costs for BMS controls, structured cabling systems, an IP network and fire and security measures. The benefits involved with taking a fully integrated approach to ICT and building controls are well documented. Communication problems become a thing of the past — even while the project is at its early stages — because there is only one project team, one design team and one development team. Right from the word go, organising and scheduling the project becomes far easier and more efficient, though it is an immeasurable quality. But looking at the cold, hard figures based purely on cost proves a real eye-opener.
Figures
With the security measures alone, taking an integrated approach, so that fire alarms, public address and evacuation systems are on the same system, saves around £100 000. The traditional, separate, approach would have cost £282 744, compared to £182 437 for the integrated approach. Add in CCTV, BMS and access controls, and the gap widens further. Including costs for all cabling, the overall cost for a separate approach is £1 406 912, whereas an integrated approach costs just £1 066 370. The savings do not end there, though, but continue for the life cycle of the building. CBTG's report looked at the ongoing costs for 30 years after adoption of the two differing systems. Taking the traditional approach for the above building, separate systems would incur costs of 90 p/m2 per annum, compared to only 57 p/m2 annum for a fully integrated building. Spread over 30 years, then, a non-integrated building of 13 500 m2 as above would cost a further £364 500 in running costs. Integrating systems in advance would cost £230 850 — around £130 000 difference. Putting it like that, there does not seem to be a single argument in favour of sticking with the old way of doing things. Integration does not mean a loss of quality of service or control — it is a far more future-proof approach that allows your building to be more flexible and to adapt more easily as your company and workforce evolves. With projects such as Manchester Royal Infirmary and Central Park in Dublin, TAC UK has successfully delivered many fully integrated building control systems. Now there is an independent study to confirm the benefits.
Reputation
As word gets around, and the reputation of integrated systems grows, demand will increase. The construction industry will turn to integration in greater numbers because of reduced capital costs and, therefore, potential for increased profits, especially for speculative office builds. Conversely, the lower construction costs will add market value to the building, which will be subject to much lower long-term running expenses. This means the end user — the people running the businesses — will also start to demand integrated systems, not only for the new buildings they are leasing or buying, but for the ones they already occupy. Where businesses face a daily fight to stay lean and profitable, fighting off global competition while wrestling with a host of other domestic issues, integration makes perfect sense and is as good as money in the bank.
Derek Duffill is managing director of TAC UK, Smisby Road, Ashby-de-la-Zouch, Leics LE65 2UE.
Related links: