A changing role for gas-fired boilers

On paper at least, 2016 should be a 'business as usual' year for the commercial heating sector, but could this be the year where we see boilers specified in a new way? Could they now take on a supporting role to alternative heating technologies such as CHP? If so, what are the key elements of a system to consider? Gavin Watson of Elco UK, looks at the options.
At the end of 2015, a leaked letter from Amber Rudd, the Energy Secretary, downplayed the chances of the UK sourcing 15% of energy for transport, power and heating from renewables by 2020. The letter warned that 'the absence of a credible plan to meet the target carries the risk of successful judicial review', as well as 'on-going fines imposed by the EU Court of Justice'.
For many, this will have been highly confusing — especially as it comes at a time when the Government is cutting support for certain renewable technologies in the name of affordability! So, for building-services engineers, what can be expected from the commercial heating industry in 2016? Will traditional gas boilers continue to be the 'go-to' product for commercial properties, or will they be more consistently specified alongside sustainable technology?
Despite the UK wavering on its commitments to a low-carbon economy, renewable technology is actually firmly embedded in the specification arena, and there is a constant flow of new options for consultants to consider. However, it is probably fair to say that renewables still don't dominate when it comes to commercial heating systems. Instead, we are seeing far more 'hybrid' setups that successfully combine traditional and sustainable technology. An example is the integration of CHP with the latest condensing boilers.
The heating system will always be a key target for improving efficiencies in a commercial building; not only is the heating system a significant user of energy but it can also be a huge drain on operating costs. Subsequently, utilising technology such as CHP alongside highly efficient condensing gas boilers is sure to be a popular strategy for specification in many new buildings and retrofits. After all, the combination provides a practical and efficient choice for commercial applications, as well as excellent returns on investment.
Given the focus on sustainable energy usage, opting for technologies that are still powered by fossil fuels might seem counterintuitive. However, it is important to appreciate that the key objective of energy-saving legislation is to use energy efficiently at all stages of the energy chain in order to reduce final consumption and running costs. CHP excels in achieving more efficient use of primary fuel to produce heat and power. The diagram demonstrates this more clearly.
As shown in the diagram, the average losses from a power station are around 60%, mostly in the form of heat rejected via cooling towers, and, to a smaller extent, in electricity transmission. In contrast, correctly sized, designed and commissioned CHP units can have an overall conversion efficiency of primary fuel to usable energy (power and heat) of around 75%. In essence, savings of up to 20% are achievable in primary energy usage.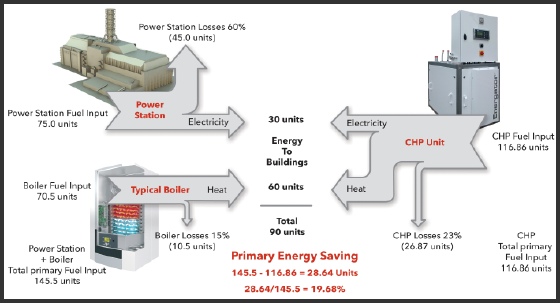 There are, of course, some key considerations when integrating CHP for a commercial heating application, such as ensuring there is sufficient heat demand for extended periods. This is especially important for residential buildings, where there are often peaks and troughs in demand. Here, CHP units work best when they have first call on the cool system return water, which requires the plant to be properly and expertly integrated into the system design.
A reasonable rule of thumb is to size a CHP unit to deliver around 20 to 30% of design thermal load. This allows a unit to run effectively in the summer, when the design load for heat can drop to as low as 15 to 20% of the total design load.
Installing a CHP unit in conjunction with conventional condensing boilers — which act as a backup — makes it even more important to configure the CHP unit to have first call on return water. Otherwise, there is a risk of it not contributing as intended and reducing the potential energy and cost savings during its lifetime.
So, with the Government's energy policies appearing to lack some continuity over the next four years, specifiers will do well to remember the benefits of CHP: significant energy savings; reduced CO2 and SOx/NOx emissions; plus the potential to earn revenue from the excess power. Of course, it is likely that behind every system will still be a gas condensing boiler, providing the back up and inherent standby required for a commercial heating system.
Even if the Government doesn't plan to meet the targets set by the EU, commercial heating systems that are well designed are sure to meet the sustainability requirements of modern buildings, improving energy efficiency and a keeping us on track for the apparently elusive low carbon economy.
Related links:
Related articles: