Vortice growth continues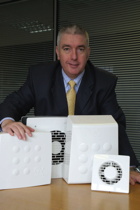 Vortice has seen double-digit growth year on year since 2009 — with 2015 being a record year for its ventilation-system business. Product development at the company's Milan headquarters has been focused on energy-efficient ventilation for many years, thus mirroring the trend for energy-efficient products in many global markets.
General manager Kevin Hippey (pictured) said, 'Vortice fans are easy to install, less obtrusive and well designed. All of these things go together with their energy-efficiency rating to make them an obvious choice for the specifier.'
The company launched a new commercial kitchen fan and two heat-recovery systems towards the end of last year.
Related links:
Related articles: