Graze expansion supported by Geberit pressing system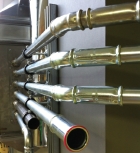 Graze.com, which started life as a mail-order healthy snacking box and which has now moved in-store and to the USA has moved to a purpose-built factory in Hayes and utilised Geberit's Mapress pressing solution for plumbing, heating and drainage. Geberit Duofix wall-hung urinals and Duofix frames for wall-hung WCs and Duofix for wall-hung urinals have also been installed. Geberit HDPE is also used for all drainage.
Geberit's pipework was specified after Graze team members Neil Thompson and Jason Lowe took part in a 'pressing' initiative through merchant BSS in Reading. Armed with a set of Mapress fittings and tools, the duo never looked back thanks to the simple process of fitting Geberit's press-fit solution together.
Following training with Paul King of Geberit, who helped Graze choose the right products for the building, installer Ross McClelland found Mapress extremely easy to use. He says, 'Using Mapress is clean, quick and tidy, with no mess — perfect for a factory as sleek as Graze's.'
Related links:
Related articles: