Combining the functions of boiler manifold and low-loss header
This cascade unit, which is available from Reflex UK, combines the functions of boiler manifold and low-loss header for heating circuits in a single unit. They have outputs of up to 600 kW and are made by Sinusverteiler in Germany. Within the rectangular cross section is a series of water ways to deliver the functions of manifold and low-loss header. Operating conditions are up to 6 bar and 110°C, and they can also be used in cooling applications.
The flow-and-return manifold consists of chambers arranged next to each other and separated by a sinusoidal partition wall — as can be discerned from the diagram. Nozzles are threaded and/or flanged connectors PN6/PN16. All nozzles are aligned to the height of the shut-off valves and optionally available from the top, side or bottom. Nozzle clearances can be uniform or variable. Drain connection couplings for the flow and return chamber are a standard feature.
To connect to the heating circuits, a low-loss header is welded below the manifold — as can be seen in the diagram.
Called the Easyflow Cascade Module, the unit offers a number of benefits.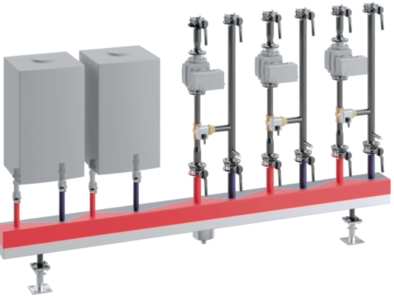 On is a much-reduced space requirement than for a combination of manifold and low-loss header. There are also savings in installation time and cost and materials.
Tim Williams, country manager for Reflex UK in the UK and Ireland, says, 'The teams at Reflex and Sinusverteiler have combined their expertise to develop a product that will hugely benefit the building industry. The Easyflow Cascade Module is a great addition to the Reflex portfolio and will help time-sensitive and challenging projects.'
Related links:
Related articles: