Bosch CHP for smaller commercial projects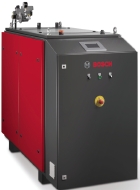 Bosch Commercial & Industrial has extended its CHP range with a module designed for smaller commercial applications. This module has an electrical output of 12 kW and joins the current range of electrical outputs from 19 to 400 kW. Applications include leisure centres and nursing homes.
The extent of its CHP offering enables the company to provide the generation of electricity and heat for almost any commercial or industrial application.
Bosch offers a free CHP feasibility study for any potential site to ensure the system is precisely sized and maximum efficiency is achieved. Once a CHP module has been installed, the company can provide ongoing advice and support to ensure the CHP system is correctly commissioned and regular servicing to optimise performance throughout its life. A range of maintenance and service packages is available.
Related links:
Related articles: