Drive for HVAC applications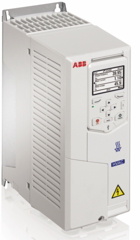 ABB's ACH580 drive is designed specifically for a wide range of HVAC applications. With harmonic mitigation, an intuitive operating panel and native BACnet and Modbus communication, the drive is suitable for the uninterrupted performance required for mission-critical applications such as hospitals and data centres as well as commercial buildings such as offices and schools.
This drive can be used with any type of HVAC motor — including induction, permanent-magnet and synchronous reluctance (SynRM).
It can be integrated with any major automation system, communicates in familiar HVAC languages, controls motors up to 250 kW and is plug-in ready to install. BACnet IP over Ethernet can be incorporated as an option.
The ACH580 provides accurate information on system efficiency. It monitors how much energy has been saved and provides advance notice of possible maintenance needs for the drive or the driven load. Energy savings are calculated internally and can be sent to the BMS via field bus.
The fans within the drive itself are variable speed, saving more energy.
Related links:
Related articles: