Design guide for Samsung air conditioning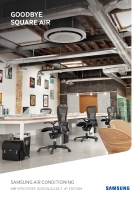 The fourth edition of Samsung Electronics' 'Specifiers design guide' offers expert advice to assist in the selection of the most suitable air-conditioning system for commercial projects. It outlines essential details on Samsung's DVMS VRF range, advanced controls and BMS interface. There is also information on split systems.
There is also information of Samsung's mini VRF range, the DVM chiller and the 360 circular cassette.
Related links:
Related articles: