Some like it hot
Stewart Jones of Tata Steel discusses the benefits of hot-finished tubes over cold-formed alternatives in building service applications.
In a busy commercial building, where heating, ventilation and air-conditioning (HVAC) systems are consistently in use, the performance and durability of the pipework connecting system components is paramount to ensure the system's performance as well as for ensuring the occupant's health and safety.
Exposed to a wide range of stresses, temperatures and pressures, steel tubes used within HVAC and building service applications need to meet specific requirements to ensure their reliability.
For example, it is essential to take into account the fluid being conveyed, as this can often contribute to the deterioration of the tube in service. Extremes of acidity or alkalinity or high levels of oxygen within the system can result in corrosion. Furthermore, if high levels of calcium are present — often common in hard-water areas — build up and blockages within the pipework can occur. In such cases it is therefore essential to employ an appropriate fluid treatment in the pipework system.
When considering the correct product for a HVAC application, the tube-manufacturing process is often ignored, with other factors such as the material specification or legislative compliance being considered more important. Yet the steel tube's manufacturing process is actually vitally important in respect of its performance in service.
Steel tubes used in building-services applications are normally ordered to BS EN10255, the successor to the old BS1387. However, whilst withdrawn in 2004, BS1387 is still commonly referenced, which can lead to procurement and compliance issues.
Tubes to BS EN10255 can be produced by two notably different manufacturing processes — either hot-finished or cold-formed. Welded steel tubes produced in this way have markedly different physical properties which will affect their in-service performance, hence the importance of taking the manufacturing process into consideration.
Cold-formed tubes are produced from steel strip that is formed and welded at ambient temperature to produce a cylindrical tube shape. Whilst undergoing this process, the material hardens, due to the cold working and the welding process, resulting in internal stresses being induced in the tube.
The main stress occurs in the region adjacent to the weld seam, often referred to as the heat-affected zone (HAZ). Within this region, the steel has a distorted gain structure, caused by the heat input of the welding operation. This makes it harder and less malleable, and any subsequent fabrication or manipulation during installation may further increase the internal stress level, resulting in a greater risk of cracking or of failing in service due to an increased vulnerability to corrosion.
Whilst the manufacturing process for hot-finished tubes may appear similar to that of cold formed, it includes one additional vital step that ensures the removal of any internal stresses. This involves induction or furnace heating of the tube to a very high temperature. As the temperature rises, the internal stresses in the steel are relaxed and the distorted grain structure of the heat-affected zone adjacent to the weld line is completely removed.
As such, hot-finished tube products offer 10 benefits over their cold-formed counterparts.
• A more ordered and consistent microstructure
• No internal stress that can promote cracking
• More consistent and reliable mechanical properties
• Improved structural integrity and ductility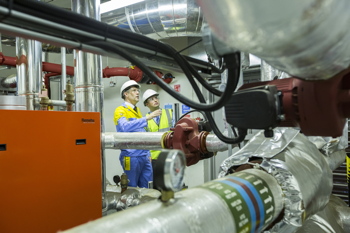 • Improved and more consistent toughness
• A higher pressure integrity
• A greater factor of safety
• No loss of strength due to additional welding or heating
• An improved performance against corrosion
• The ability to be threaded, grooved or bent to tight radii without splitting, creasing or collapsing
Using the correct welded steel tube in building-services applications is therefore vital, and for this reason the better durability and reliability offered by hot-finished products should always be considered.
Tata Steel's Install Plus 235 brand, for example, provides a robust solution for such demanding conveyance applications. This multi-certified tube range ensures that each product is aligned with both the CE marking requirements of the Construction Products Regulations (CPR) and also the Pressure Equipment Directive (PED), by manufacturing to both BS EN10255 and BS EN10217 Part 2.
It is important to note that only by requesting an BS EN10217 Part 2 product, can you guarantee that a hot-finished or 'GH' (Get Hot) steel tube will be supplied.
To highlight the importance of tube manufacturing and raise awareness of pipework related issues, Tata Steel, in collaboration with the School of Civil & Building Engineering at Loughborough University, has established the Building & Industrial Services Pipework Academy (BISPA). This supports the building and industrial services industry by offering training courses and CPD programmes focused on a range of industry issues, including tube specifications and the benefits of hot-finished products.
Therefore, when considering what tube to use for a building-services application, looking beyond the specification to the manufacturing process is strongly recommended. Remember, not all steel tubes are the same. Hot-finished steel tubes can provide an unparalleled level of reliability and durability within pipework systems, delivering safety and performance benefits as well as a longer life.
Stewart Jones is senior customer technical services field engineer for conveyance tubes at Tata Steel.
Related links:
Related articles: