Clivet receives CIBSE CPD accreditation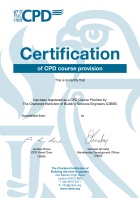 Clivet, which specialises in all-year-round comfort systems based on heat-pump technology, has been accredited by CIBSE as a CPD course provider. There are courses for the tertiary-commercial sector and the residential sector.
Courses for the commercial sector include simultaneous heating and cooling, why and when a water-loop heat-pump system is convenient, and efficient and flexible fresh-air management.
The CPD course for the residential sector is fresh-air management with thermodynamic heat recovery.
Related links:
Related articles: