BACNet controllers for terminal units from Siemens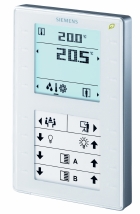 DXR controllers from Siemens offer robust control for fan coils, VAV, and fan-assisted VAV units. They have been designed with both new-build and refurbishment projects in mind.
They use the truly open BACnet protocol and are easy to install, saving money at the outset.
Some DXR room units incorporate the Siemens Green Leaf function — an icon on the room controls. If the leaf is green, the system is operating efficiently, If the leaf turns red, pushing the button resets the system to its most energy-efficient setting. Calculations based on BS EN15232 show that Green Leaf can save up to 25% of energy use.
Related links:
Related articles: