Gripple's latest fitting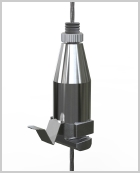 Gripple's QT Trapeze Plus fixing provides a fast and easy method of installing suspended pipes and electrical services. It enables quick-twist attachment to a Gripple Universal Bracket.
This latest product also integrates an adjustment to ensure perfect levelling and a locking screw for security. A fail-safe clip secures the new Trapeze to the bracket to prevent unexpected movement.
QT Trapeze Plus is supplied in a ready-to-use kit with no cutting required on site. Brackets can be pre-fabricated. Only a standard size spanner is needed for installation.
A range of end fixings is available to maximise versatility when installing into a number of building substrates.
Related links:
Related articles: