Explaining the benefits of modern approaches to busbar trunking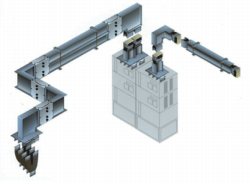 Modern busbar trunking systems offer many benefits over cable, as JOHN CLARKE explains.Modern busbar trunking is manufactured into totally enclosed, pre-fabricated sections consisting of copper or aluminium busbars with current ratings from 25 to 7500 A. Power is tapped-off by plugs or tap-offs positioned at regular intervals. A busbar system typically consists of 3 or 1.5 m lengths, end feed/live end boxes, end covers, various tap-off units at different ratings and hanging brackets.
Key advantages
Busbar trunking has several key advantages over conventional forms of power distribution. On-site installation times are reduced compared to hard-wired systems, thus leading to cost savings. It provides increased flexibility in design and versatility with regard to future modifications. Increased safety features are brought about by the use of high-quality, manufactured components, which provide greater safety and peace of mind for specifiers, contractors and end-users. Busbar trunking systems are used in a variety of high- and low-voltage applications, including production plants, workshops, assembly lines, warehouses, distribution centres, supermarkets, retail outlets etc. Busbar has been specified for lighting/power distribution in a wide range of major UK projects. Clients include Rolls Royce, Rover Cars, JCB, Honda, Mercedes Benz, Land Rover, Ford, Vauxhall, Caterpillar, British Telecom, Lidl Warehouses, MEB, Manchester Airport, BBC Television, Seagate Computers, Wickes, Blockbuster Video, Eddie Stobart and HMV — to name but a few.
Easy to estimate
Because of the simplicity of busbar, it is easy to estimate costs from the design/estimating stage through to installation on site. This is because the technical characteristics and price of each component are always known. No special tools are required for busbar installations. The joints, lengths and accessories are simply bolted or screwed together. Medium- and high-power systems have double-headed torque bolts, which on tightening will shear when the correct torque has been achieved.
Busbar trunking can be used in the installation of heavy-duty, multi-circuit lighting systems.
In addition, the fact that busbar is a factory manufactured and tested product, ensures a high quality and safer installation. Most busbar manufacturers provide a full range of technical-support services to electrical contractors who can now buy fully designed, engineered systems. The design and estimating stages are also fully supported by busbar manufacturers, who provide quotations for busbar components and can, in most cases, advise and assist in the design. Busbar installations compare very favourably with cabled projects. Historically, the material cost of busbar has been a point of concern for electrical contractors. However, it is short sighted to compare the cost of busbar against that of a length of cable — and not the real cost of a cable installation to include multiple runs of cable, tray and fixing, let alone the protracted time and effort of pulling cables.
Falling costs
The cost of busbar systems has fallen in real terms over recent years. Add to this, the cost saving in installation time — up to 50% less than cable! The reality is that electrical contractors can offer a more competitive bid, at the same time as offering clients a 'state-of-the-art' power-distribution installation which is infinitely more flexible in use compared with cable. The installation time for busbar is virtually the same as for installing cable tray — before the installation of the cables! This is obviously a very important consideration in these days of ever tightening completion deadlines. There are two distinct categories of busbar trunking — distribution or feeder busbar. Distribution busbar distributes power along its length through tap-off points along the busbar at typically at 0.5 or 1 m centres. Tap-off units are plugged in along the length of the busbar to supply a load; this could be a sub distribution board or, in a factory, to individual machines. Tap-offs can normally be added or removed with busbar live, eliminating production down time. Installed vertically the same systems can be used for rising-mains applications, with tap-offs feeding individual floors. Certified fire barriers are available at points where the busbar passes through a floor slab. Protection devices such as fuses, switchfuses or circuit breakers are located along the busbar run, reducing the need for large distribution boards and the large quantities of distribution cables running to and from installed equipment. High-power feeder busbar takes power directly, for example, a power transformer to switchboard or switchboard to switchboard. This basic configuration is often referred to as 'a goal-post installation'. However, if a power source is required to be tapped off, it is possible with most manufacturers' ranges to do this at a joint along the run — another example of the flexibility of busbar Both feeder and distribution busbar systems in for medium and high power are available in two forms. • Flat spaced configuration where the conductors are either air insulated or have PVC insulated conductors, all within an earthed metal enclosure. • Sandwich configuration, which is becoming the norm for most manufacturers at these ratings. Sandwich construction means that conductors are individually insulated and mounted to form a sandwich of conductors and insulation within the busbar casing. The sandwich-construction busbar has very good mechanical strength, gives higher fault-level withstand characteristics and lower voltage drop. This type of busbar is a very compact product, making it ideal for installing into the ever-reducing available space which is allowed in the modern building for building services! Fire barriers When used for rising-main application, the sandwich configuration negates the need for fire barriers because there is no air gap within the casing to give a chimney effect to allow the passage of smoke and fire. Most busbar systems are rated up to IP55, allowing them to be used in difficult environments. However, for extreme conditions such as petro-chemical applications or outdoor applications, resin-encapsulated busbar is available up to IP68. Resin-encapsulated busbar is a system where the copper or aluminium conductors are totally encapsulated in an insulating casing of flame-retardant, self-extinguishing epoxy-resin mix, which at IP68 classes it as submersible in water (to defined limits). Where aesthetics have to be considered, busbar trunking can be installed with natural galvanised, aluminium, or painted finish. Special colours to match switchboards or a specific colour scheme are also available on request. Another point to remember is that when comparing with cable is that busbars are more compact when installed because allowances for large bending radii are not necessary — an important consideration in view of the smaller switchboard rooms now being made available.
Technical backup
There has never been a better time to consider using busbar. Manufacturers offer a full technical backup — from design to installation support. Competitive prices of busbar combined with the time saved on site, along with other benefits discussed, make busbar trunking systems a must for today's power-distribution installation.
John Clarke is a director with Zucchini Busbar UK Ltd, 10-12 Castle Road, King's Norton Business Centre, King's Norton, Birmingham B30 3HZ.
Related links: