The wired answer for power and data cabling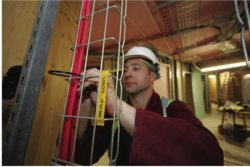 With welded steel-wire cable tray becoming increasingly popular for cable management, MATTHEW WAY dispels a few modern misconceptions.With literally millions of metres of welded steel-wire cable tray installed in buildings of every type since its European launch more than 30 years ago, this versatile product is firmly established as a cost-effective cable-management system. Despite its undoubted popularity as a practical and cost-saving alternative to traditional perforated sheet-steel cable tray, wire 'basket' systems are still regarded by many otherwise well-informed people as having lower mechanical strength. While this prejudice may be reinforced by the poor performance of lower-quality, lightweight basket tray, higher-quality systems can hold their own against sheet steel tray and even outperform it in many areas.
Benefits
Because of the excellent air circulation, cables installed in wire tray can be classed as 'clipped in free air', enabling smaller, more efficient cables to be used. The open-mesh construction also provides free drainage and prevents the build-up of dust and debris, giving far higher levels of cleanliness and hygiene and eliminating possible fire and safety hazards.
Wire cable tray can support over 100 kg/m of heavy-duty armoured cables on an unsupported span of 1.5 m.
As steel prices remain high, the lower volume of material in wire tray compared to sheet steel now provides a price advantage of 15 to 20%. All fittings are created rapidly and easily on site at a fraction of the cost of the pre-formed sheet-steel equivalent, providing very significant savings in both time and labour costs.
Costs
At the same time, material costs have forced manufacturers to reduce the thickness of sheet-steel products, reducing their strength. In comparison, the mechanical properties of the premium-quality welded steel wire alternative remain unaffected. Tested to full IEC specifications, wire cable tray can support over 100 kg/m of heavy-duty armoured cables on an unsupported span of 1.5 m, giving a deflection of just 1/200th.   Although wire-mesh cable tray has gained widespread popularity for the containment and protection of power and control wiring and cabling, some installers still have reservations over its use with high-tech, high-bandwidth data-communications cabling.
Cable density
Despite the lack of documented evidence, it is assumed that the large number of cables capable of being carried in deep-sided cable containment would have sufficient total weight to cause mechanical stress or even partial crushing of the lowest layers, impairing their performance. Since its introduction, many millions of metres of Cat5e and Cat6 cables have been installed in wire mesh tray without a single reported problem due to installation density. Nevertheless a 'flat surface' is still assumed be the most suitable cable-management system, irrespective of either the material used or its properties, frequently forcing installers to use unduly expensive products or containment which is difficult and time consuming to install. Dispelling any previous misconceptions, independent tests to international TIA/EIA standards show that at a depth of 40 Cat5e or Cat6 cables there is no difference in performance between a wire cable tray and a 'flat surface'. Temperature cycling tests also indicate that as wire mesh containment allows air to circulate freely, it can provide a positive advantage, preventing overheating.
Power and data
While the special properties of steel wire cable tray make it an ideal containment for power as well as communications cables, the situation is less clear where space is limited or only a small number of communications cables and power cables need to be installed along the same route, especially if costs are under pressure. In the event that it is preferable to install both data and power cables in the same tray, it raises the questions whether this is possible and, if so, how the cables should be positioned. Current standards clearly define the separation between power and data cables. For instance, the minimum separation distance between unscreened power and unscreened UTP cable is 200 mm. This is reduced to 50 mm for screened data cable and to just 30 mm if the power cable is screened. Electro-magnetic interference from power cables can reduce the performance of data cables, particularly speed of data transmission. Using a steel divider in a metal cable tray significantly reduces the separation required between power and data cables. If these are unscreened, separation can be as low as 50 mm, assuming the divider is both physically and electrically continuous. Independent tests have supported the guidelines given in data-cabling standards, showing that increased separation reduces interference. However, tests also show that if both power and data cables are placed in enclosed trunking, interference to data cables is far higher. Installing data and power cables in an open wire-mesh cable tray, with low-impedance couplings and a continuous metallic divider reduces the problem at a stroke, providing significant savings in space, installation and materials — important considerations for both installer and client in a cost-conscious building environment.
Matthew Way is managing director with Cablofil UK, Ltd, 20-22 Manor Industrial Estate, Flint CH6 5UY.
Related links: