ECEX service extends the life of AHUs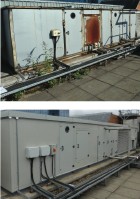 ECEX offers a repair and refurbishment service for air-handling units to extend their life, increase their operating efficiency, save energy, boost performance and, typically, reduce running costs. Managing director John Grenville explains, Complete replacement of an AHU is not always the best option. There are many compelling reasons to choose refurbishment and repair. For example, in many cases it is less expensive than replacing an AHU and offers the opportunity to upgrade the existing specification by taking advantage of the latest energy-efficient EC plug fans and components.'
Among other benefits he highlights are minimising disruption by increasing installation flexibility, reducing downtime, and overcoming the transport and access difficulties associated with replacing a unit. Re-using existing equipment is also more environmentally friendly.
Existing services such as ductwork, pipework and wiring do not need to be altered.
The ECEX service covers the repair and replacement of all types of coils, belt drives, motors, fans, bearings and spares.
Related links:
Related articles: