Lochinvar widens its water-heater offering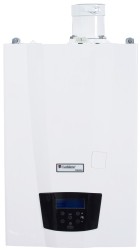 Lochinvar's Impetus range of continuous-flow gas-fired condensing water heaters for small commercial and residential buildings comprises three wall-hung models with flow rates from 13.7 to 25 l/min at a 35 K temperature rise. They have a very rapid response, low water content and modulating pre-mix burner with an 8:1 turndown ratio.
Efficiencies as high as 96% gross are achieved, making all three models A rated under the European EcoDesign Energy Label rating system.
NOx emissions are less than 29 mg/kWh, making these water heaters very well suited for applications subject to BREEAM assessment.
Managing director David Pepper says, 'This is an important diversification for us. We built our reputation with larger systems and are more associated with commercial building-services solutions. With this product we can take our tried-and-tested fully condensing water-heater technology into the growing residential and small-commercial sector.'
These water heaters work well when installed alongside solar-thermal installations to provide top-up hot water when solar input is low or at times of peak demand for hot water.
To ease installation, they can be supplied with multiple flue options for maximum siting flexibility. They can be adapted to work as part of an unvented systems, and a condensate-neutralisation kit can be fitted if required.
Related links:
Related articles: