Glen Heating devises community heating and cooling system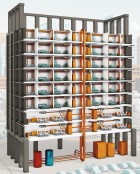 Glen Dimplex Heating & Ventilation (GDHV) has developed an approach to cooling and heating individual apartments in apartment blocks based on 'energy loops' in the building and heat pumps in the apartments. It avoids issues associated with distributing water at high temperature, such as overheating of common areas and losses.
Heat pumps in each apartment upgrade heat from the common loop to provide heating and hot water or reject heat into the loop to provide cooling. [Who remembers Versatemp? — Ed.] heat can be delivered to fan-coil units, delivered through vents in the ceiling or wall or to underfloor heating.
The system is called the Zeroth Energy System and can help achieve a thermal balance if some areas of the building require heating while other areas are cooled. [Does that mean that a landlord can charge for cooling at the same time as selling 'free' heat? — Ed.]
Work done by GDHV has shown that an energy network can improve its efficiency from less than 50% to 98% using Zeroth.
Related links:
Related articles: