Ductwork installation guide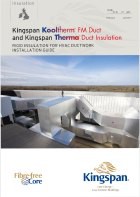 Kingspan Insulation has released a new installation guide for Kingspan Kooltherm FM ductwork insulation and Therma Duct insulation. It covers all aspects of the installation process for rectangular, circular and flat-oval ductwork applications — from initial preparation to TICA-recommended methods of insulating flanges, stiffeners and connections.
Clear, annotated diagrams illustrate best practice in a range of areas — such as dealing with radius sections and circular bends.
Both types of insulation offer a number of advantages for installers. Their premium-performance insulation cores can help to minimise ductwork dimensions without compromising energy performance. They are suitable for indoor and outdoor applications. Their fibre-free insulation cores make them particularly well suited for controlled environments such as laboratories, food preparation and server rooms.
The guide can be downloaded from the link below.
Related links:
Related articles: