Dyson School selects BEG for lighting control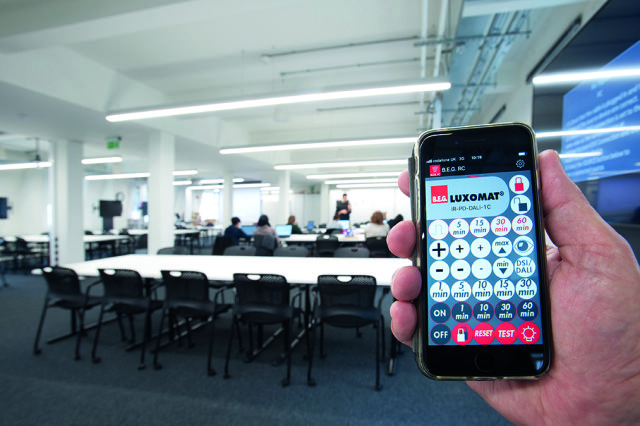 The Dyson School of Design Engineering has selected the easy-to-use BEG lighting control system which allows the building's maintenance team to use their smartphones as the interface with the system.
This school of engineering is the newest engineering department at Imperial College London (ICL). It was established with a £12 million donation from the James Dyson Foundation and opened in 2015.
BEG Lighting Controls were selected by ICL to provide a user-friendly system which could be maintained by their own maintenance department and meet the lighting control standards required by the research university. The lighting controls manufacturer worked with mechanical and electrical consultants, Buro Happold, who were tasked to oversee the project and ensure that the system achieved the best solution for ICL.
The College's main criteria was that the project had to result in energy cost savings for the University for the various areas of the Dyson School department and take advantage of any natural daylight. This included the teaching rooms, laboratories, offices, corridors, stairwells, toilets and store rooms. BEG Lighting Controls and Buro Happold worked on the layout of the lighting as well as the level of light and type of control required for these areas.
The luminaires selected on the project were DALI dimmable and daylight harvesting was to be achieved mainly for the light fittings adjacent to the windows. For these areas, the BEG DAA4G Occupancy Sensor were chosen as this sensor could be programmed so that the window luminaires were dimmed by 25 per cent to the main room. If the sensor's photocell detected any change in the level of natural daylight then all luminaires would adjust accordingly. This sensor was specifically used in the teaching rooms, where up to four lighting zones could be set. One being the whiteboard and then up to three zones for the classroom
Related links:
Related articles: