Hydrogen can replace natural gas say leading UK engineers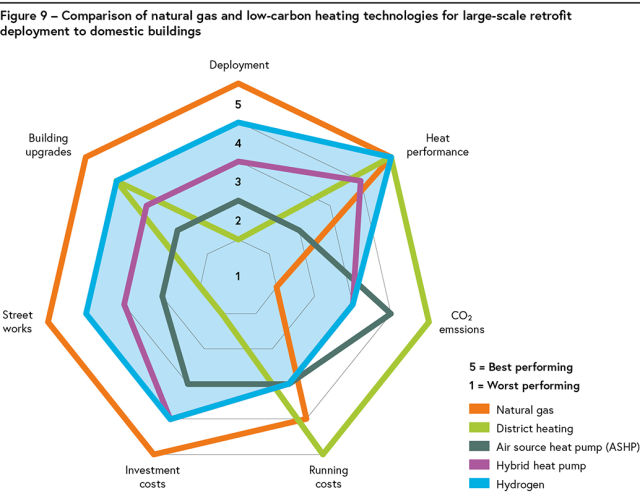 Leading UK engineers have assessed the possibility of using hydrogen in place of natural gas in the UK's gas grid and concluded that there is no reason why this cannot be achieved safely. This would contribute significantly to the UK's 2050 carbon emission reduction target and help address the climate emergency.
The conclusion is based on the joint work of a number of the UK's leading engineering and science institutions: The Institution of Engineering and Technology (IET), the Institution of Chemical Engineers (IChemE), the Institution of Mechanical Engineers (IMechE), the Health and Safety Laboratory (HSL) and the Institution of Gas Engineers and Managers (IGEM).
The report, titled 'Transitioning to hydrogen – Assessing engineering risks and uncertainties' was produced at the request of government to look into the possibility of switching to hydrogen for homes and businesses. It is a move which would significantly contribute to the decarbonisation of the UK energy and heating sector.
Natural gas is now one of the largest sources of carbon emissions. 85% of homes in the UK use gas for heating and cooking and more than 50% of energy consumed by industry, alongside 40% of electricity, is also generated from gas. The key feature of hydrogen is that when combusted it produces no carbon emissions and is therefore a low carbon alternative to natural gas.
Hydrogen has not been deployed at scale anywhere in the world, so any approach needs to compensate for such a lack of experience.
The benefits of hydrogen include its ability to be produced in large volumes from natural gas using a process called gas reforming. A by-product of this process is carbon dioxide and this must be used or safely stored – a process called carbon capture utilisation and storage (CCuS). Hydrogen can also be produced using electrolysis but at present this is less suited for producing large volumes of hydrogen and costs are currently higher.
In addition, most of the UK's iron mains gas networks will have been replaced with hydrogen-safe polyethylene pipes by 2030. Existing gas boilers in homes will need to be replaced but boilers have a working life of 10 to 15 years and so these could be phased in with "hydrogen-ready" boilers at little additional cost to consumers.
For more information see the link below.
Related links:
Related articles: