Carrier offers high temperature heat pump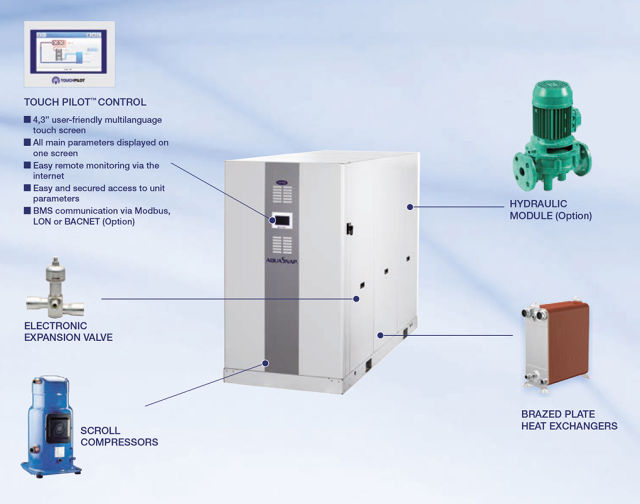 Carrier has introduced a new high efficiency water-to-water heat pump for harnessing energy from rivers, lakes and industrial process applications that can deliver high temperature water up to 65oC for sanitary use or radiator heating.
The Eurovent-approved Carrier AquaSnap 61WG monobloc water-to-water heat pump is available in six sizes with heating capacities ranging from 29kW to 235kW at typical water conditions of 30/35 degrees Celsius, or 26kW to 200kW at higher temperature water conditions of 55/65 degrees Celsius.
It is designed for medium to large commercial applications requiring high temperature sanitary hot water, such as hotels, hospitals, universities and leisure facilities. Alternatively, it can be used for heating with traditional radiators appropriately sized for up to 50°C, in line with current industry best practice guidance.
The heat pump is designed to replace or augment traditional gas boilers, or for use off-grid where buildings are currently reliant on expensive oil-fired or electric heating. Highly energy efficient, the system has a Seasonal Coefficient of Performance (SCOP) of up to 5.05 (at 55°C). This means that over a typical operating season, it can deliver more than five times the electrical power it consumes in the form of heating energy as a result of harnessing and upgrading low level waste heat.
Related links:
Related articles: