JS Wright wins Silk District project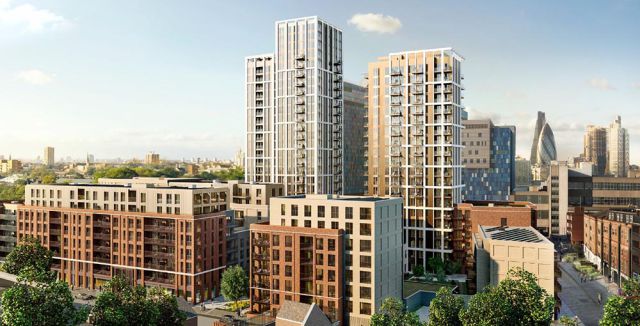 Leading building services provider J S Wright has secured a contract worth in excess of £17 million to fit out one of London's biggest residential developments.
The Birmingham-based company, which has an office at Trafalgar Square in London, will design and build all the mechanical and electrical services for the first phase of The Silk District in Whitechapel, London.
J S Wright will provide the services for a total of 412 homes and communal areas that make up the first phase of a larger development that will total 648 homes being built on the site of a former storage facility, for joint venture partners Mount Anvil and L&Q.
The project includes two buildings - The Jacquard and The Georgette - of 20 floors and 7 floors respectively that also include a residents' workspace, cinema room, gym and a 24-hour concierge.
The mechanical works will include providing each apartment with low-pressure hot water heating via a mixture of either thermostatically controlled underfloor heating or radiators fed via a heat interface unit from a combined heat and power system in a central plantroom.
The heat interface units will arrive on easy to fit utility cupboards manufactured offsite by J S Wright's in-house prefabrications department, saving construction time and reducing the number of trades required on site.
In addition, J S Wright will equip both buildings with a mechanical ventilation heat recovery system that will reduce energy costs. The brief also includes installing domestic sprinklers, smoke and environmental ventilation, and wet and dry risers in all areas including underground parking. J S Wright will also carry out the electrical installations, including the installation of lighting, fire alarm, power and TV infrastructure in each apartment. It will also install an M-Bus credit metering system to record energy consumption.
Related links: