Polypipe clicks into water market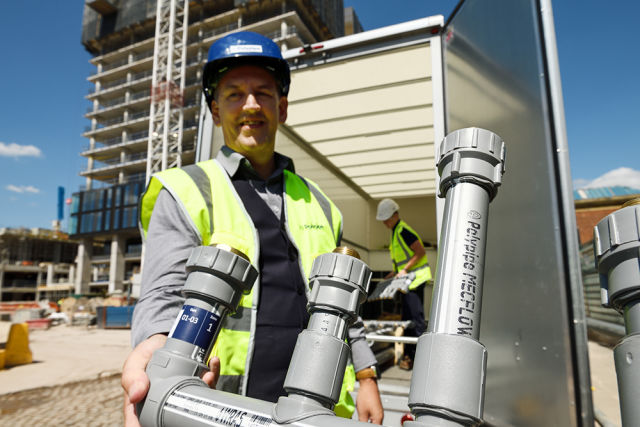 A new ground-breaking plastic water supply system for the UK commercial market, called MecFlow, has been launched by Polypipe Building Services.
MecFlow is a multi-layer, WRAS-approved PPR pipe, that has been designed for strength and durability. It uses Clickweld technology that has the benefits of both an electrofusion weld and clip connections. The new technology provides a new way to design, build and install water supply systems.
This could help save up to 75% of the install time compared with traditional methods. By using clip connections, Clickweld removes the need for clamping. Once the installers are satisfied that the system is correctly configured, an electrofusion weld is then used to secure it in place, ready for use.
MecFlow Kits are designed, manufactured and tested in factory-controlled conditions before being delivered to site, to ensure the system is of the highest quality. Delivering Kits, instead of component parts has dramatically reduced waste from packaging and off-cuts and with the kits being delivered to schedule, reduces the need for on-site storage.
Steve Bamforth, strategic project development director at Polypipe Building Services, says: "MecFlow with Clickweld technology represents a leap forward in water supply systems available in the UK commercial market. The composition of MecFlow pipe makes it suitable for a range of applications, taking a tried and tested material and providing yet more benefits."
Related links:
Related articles: