Air conditioning, and more...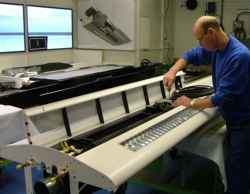 Multi-service chilled beams are more than air-conditioning units. They can combine various elements to produce a cost-effective, attractive, easy-to-install unit that maximises siting flexibility and minimises costs — says TERRY FARTHINGManagers of the best manufacturing companies understand that a multi-skilled workforce is a powerful weapon in today's ferociously competitive business world. But multi-skilling — enabling employees to perform more than one task — need not apply only to people; it can work for technology too. Multi-service chilled beams (MSCBs) are a good example of this principle. The elements in an MSCB can include ceiling diffusers or chilled beams for air conditioning, sprinkler systems for fire control, passive infra red sensors, a comprehensive range of lighting, smoke alarms, building-management system elements, voice and data cables, closed-circuit television and public-address systems.
Bespoke
Because they are bespoke-designed, MSCBs allow the designer to customise the look of the unit with little impact on cost. The consultant also has the flexibility to use a passive or active chilled beam in an exposed or recessed configuration. For the end user, MSCBs save money because several functions are accommodated in a single, neat and eye-catching unit. Other advantages of MSCBs include lower whole-life costs compared with traditional systems based on fan-coil units and lower capital costs than a suspended ceiling concealing fan-coil units. Installations based on MSCBs also have the ability to accommodate office 'churn' and integrate with future office partitioning and layout requirements. Business benefits for the site team come from an easier and less disruptive installation. Because the beams are 'plug and play', they reduce commissioning times and costs. The units are prefabricated in the factory, reducing time spent on site — with all the safety, timesaving, and cost implications that this involves. Off-site prefabrication also enables the co-ordination of fit-out services, with the services being fully co-ordinated, engineered and manufactured within the quality-controlled environment of the factory.
Building Regulations
But there are also other, more pressing reasons to take chilled-beam technology such as MSCBs seriously. Nick Cullen of consulting engineer Hoare Lea warned recently that the revised Part L of the Building Regulations, that came into force early in April, could halt the use of fan-coil units (the alternative to chilled beams). Although he did not believe that this was what the Government intended, he said that the move away from fan coils should, perhaps, be made explicit by the Office of the Deputy Prime Minister. One conclusion is that chilled beams could take over from fan coils as the most popular system. Whether or not this happens, the MSCB can, nonetheless, form a distinctive architectural feature in any commercial application — whether new or refurbished. Indeed, the advent of MSCBs has brought the architect and services consultant closer together to create an architecturally designed services unit.
Not only can bespoke multi-service chilled beams incorporate a wide range of services to suit the requirements of a particular project, they can also be tested in full-scale mock-ups.
The use of a suspended ceiling may well become a thing of the past as the significant benefits of exposed MSCBs grow to be more widely known. The challenge of providing building services to low-height 1960s buildings is one that will be relished by designers of MSCB systems, particularly those who incorporate an active chilled beam.
Options
Although MSCBs are tailored to architects' individual specifications, there are several options available to enhance the internal environment. • Up-lighting: Light may be washed across the soffit, eliminating the gloomy 'cave effect' and can be used with traditional down-lighting options. • Down-lighting: A wide choice of fittings may be considered to illuminate the space. • Exposed beam: The ceiling space can be used to maximum effect by suspending the beam directly from the concrete soffit. The architectural beams then become an attractive central feature of the room. • Recessed beam: Bespoke MSCBs can be incorporated into a suspended ceiling. • Passive cooling: Natural convection is used to maintain high comfort levels via the water-cooled coils in the beam. • Active cooling: Fresh air is ducted to the beams, increasing cooling output. • Heating: Active beams can be used to provide heating to the space using low-temperature hot water.
Terry Farthing is sales director with Trox UK, Caxton Way, Thetford IP24 3SQ.
Related links: