Exploring the benefits of underfloor heating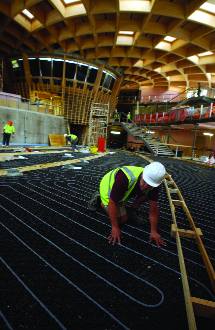 Comfort levels, space restrictions, interior design — the arguments for underfloor heating are endless. REX INGRAM gives advice on the planning and design of underfloor heating system.High comfort levels, together with low running cost and environmental benefits, have resulted in a growing demand for underfloor heating systems. The UK market is currently growing at 20% per annum. Underfloor heating is the most comfortable form of heating because it is largely radiant, and people have evolved physiologically to prefer this form of heating. It is completely unobtrusive, and some people estimate that this gives an average of 15% more usable space in a room. It is completely safe and more hygienic than radiators. And it is more energy efficient. Radiant energy from the floor is absorbed by the other surfaces in a room, which warm up and become secondary radiant emitters. We become surrounded by gently radiating surfaces, which is very comfortable. There are no floor draughts and the temperature in all parts of the room is even. Convective forms of heating, such as radiators, use the air in a room as the transport mechanism to move energy into the whole room from a small surface that must be very hot compared with the room air. The hottest air is at ceiling level and the coldest is at floor level. The air can become dry and cause dry eyes and stuffy noses. Convection circulation can also pick up dust from the floor and put it into the air we breathe.
Energy efficiency
Most new buildings can be kept warm with heating power in the range 35 to 75W/m2, which can be achieved with floor-surface temperatures of just 24 to 27°C. The maximum floor temperature should not normally exceed 29°C, although up to 34°C is acceptable for bathrooms. An underfloor heating system uses water at a much lower temperature than that required by radiators, making it ideal to be fuelled by alternative energy sources such as solar or geothermal energy. Depending on the conductivity of the floor, the water needs to be between 40 and 60°C to reach the design floor temperature. By contrast, radiators generally require the water to be at 70 to 80°C. When designing an underfloor heating system to heat an entire building, some modern boilers can supply the water at the low temperature required directly to the heating system. The internal pump of such a boiler can be used to circulate the water around the pipe circuits.
Floor types
If the boiler cannot supply the water at the required temperature, it is necessary to add a water-mixing control unit to reduce the water temperature before it enters the underfloor heating system. There are forms of underfloor heating to fit every type of floor construction (screeds, fully floating timber floors, battened and joisted floors), as well as floor constructions that incorporate acoustic components required to comply with Part E of the Building Regulations.
Screed
Before the screed is laid, edge insulation should be set all round the periphery of the room to allow for thermal movement in the screed during the year. The heating pipe is fixed to the top of the insulation, just before the screed is laid. The pipe should generally be set at 200 mm spacing. This is close enough to guarantee best heating performance and minimises the length of pipe needed. The pipe can be stapled to firm insulation and fixed with screw clips to soft insulation. Another option is system plates. These vacuum-formed plastic panels have moulded pipe grippers to hold the pipe securely and at regular spacing.
Timber floors (floating)
Panels of insulation are used to support a timber floor deck. This is normally formed from tongued-and-grooved panels of chipboard or plywood. Floating-floor panels with pre-cut pipe channels and factory-fitted aluminium heat diffusers are available to be used instead of plain insulation panels to support a fully floating deck. These purpose-build panels have a higher conductivity and help minimise downward heat loss.
Timber battens, joists and I-beams
Battens are used where the floor loadings are to be higher than can be supported by a fully floating floor or where the floor deck is to be formed from planks to be nailed down to a support. Softwood joists are commonly used in intermediate floors, although manufactured I-beams are often used because they can be stronger and are more stable dimensionally. Pre-fabricated batten/joist panels are available from Wavin to fit between battens and automatically space these at nominal 400/600 mm centres or to be fitted between softwood joists. Underfloor heating is easy to install. The mechanism for fixing pipe or heating cable into the floor is simple. Working out where to put the pipe and what pipe centres to use is more complicated. Sorting out where to put manifolds and controls also requires an amount of expertise. If it is planned to design and install a small area of underfloor heating, underfloor heating products available through merchants are easy to use. If the project is larger, it is better to seek the help of a professional underfloor heating supplier, ideally a member of UHMA — the Underfloor Heating Manufacturers' Association.
Rex Ingram is managing director of OSMA Underfloor Heating, 18 Apple Lane, Sowton Trade City, Exeter, Devon EX2 5GL.
Wavin produces an 'OSMA underfloor heating hidden advantage guide' for installers. It describes the wide range of solutions on offer from OSMA Underfloor Heating and provides best practice advice for working with UFH systems in domestic and commercial applications.
Related links: