The return of centralised plant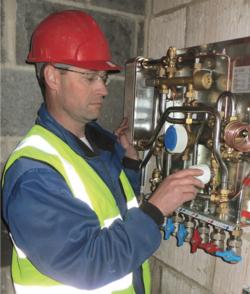 LARS FABRICUS describes how central energy plant can be used with local hot water generators in dwellings for maximum efficiencyIn the drive for a low-carbon economy the building services industry is changing fast. It has to; heating and cooling Britain's buildings is responsible for over 40% of the nation's carbon-dioxide emissions. The need for maximum energy efficiency is the spur for new technology, but it has also encouraged a fresh assessment of players that had lurked in the wings without ever becoming stars. Now heat pumps and underfloor heating are enjoying soaring demand, and I suggest that they will soon be joined in the spotlight by group-heating schemes. Apartment blocks in the UK have traditionally featured a self-contained heating and domestic-hot-water system in each flat. Many social-housing units depend on electricity for these services, which can be fiendishly expensive to run. It is ironic that the poorer members of society should have to pay the most to heat their homes! Builders and engineers have now begun to realise that operating a central boiler plant makes much more sense. It is much easier to get the best efficiency from a properly supervised set of boilers with sophisticated BMS controls than from 50 or more separate small units.
Modern solution
That approach is fine for space heating, but hot water is still a potential energy leak. Holding a large volume of expensively heated water in calorifiers means inevitable heat losses. The modern solution is to combine central boiler plant with interface units based on plate heat exchangers in individual dwellings. Hot water is thus only generated when required — when a tap or shower is turned on. There are no storage vessels, apart from perhaps a buffer tank in the plant room. The result is a system that combines the virtues of a central boiler with those of the domestic combi boiler — domestic hot water only when it is needed. Such a system is fast to react and efficient; it even saves space as well as fuel! The secret of real success, however, lies not so much in the design of the interface units as in the quality and versatility of the integral valve arrangements. This is particularly true if the potential of this centralised 'on-demand' generation of domestic hot water is to be fully realised. Using central plant opens the way to making the best use of renewables —remember Mayor Livingstone's policy calls for London's buildings to utilise a minimum 20% renewable energy. Biofuels (wood chips and pellets compounded from waste materials, for example), solar panels and, of course, heat pumps can all supply low-grade energy, which requires careful control strategy. Such control will ensure low return-water temperatures — ideally at around 30°C — which not only maximises the efficiency of modern condensing boilers but is also perfect for exploiting low-grade renewables. The application of variable-speed pumps can save pump energy by reducing the system's water flow as demand falls and 2-port control valves start to close. However, in a centrally supplied system with so many variations in demand at local level, good valve authority is crucial to achieving control. Just as in a modern fan-coil system, good valve authority can best be achieved by having top-quality controls — ideally including a differential-pressure control valve (DPCV) — close to the point of energy release, i.e. integrated with the local heat-exchange package.
State-of-the-art
SAV's FloCon exchange module represents state-of-the-art in this technology. Its high efficiency plate heat exchanger is complemented by a Danfoss PToC proportional-pressure and temperature control valve, 2-port bypass valves and DPCVs. The DPCV ensures good valve authority and flow control — reducing unnecessary energy consumption. When a variation in system pressure as a result of an opening tap is detected by the PToC, energy is proportionally diverted via the plate heat exchanger from the heating circuits to hot-water supply, while the thermostatically controlled bypass ensures an instant supply of DHW. The system reverts back to the original setting when demand ceases. Cold water at say 10°C is heated to 45°C for instantaneous supply as soon as a tap is turned. A single apartment can be supplied with up to 19 l/min of water at 45°C. Space-heating flow temperatures drop from 80°C to only 15°C return. The concept is ideal for both radiators and underfloor heating. Moreover, constant modulating control ensures energy is directed in exact proportion to demand — from a single tap in the kitchen to simultaneous use of two bathrooms. The DPCV maintains optimum pressure conditions in the heating circuit to enable individual room control via thermostatic radiator valves or actuators at the manifold in the case of an underfloor heating system. Safety is also a major design feature. The PToC ensures that the DHW supply valve in the module closes immediately demand ceases. An inbuilt temperature sensor automatically closes the valve at 60°C to prevent lime-scale formation. The cold-water connection also incorporates a dual function ball valve and non-return valve plus safety valves, so that back flow cannot occur.
Lars Fabricus is with SAV Valve Systems, 131 Armfield Close, West Molesey, Surrey KT8 2JR.