New Airbus factory flies by Victaulic
Published: 02 May, 2004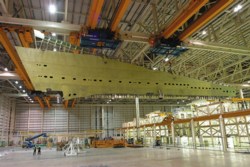 The ease of installation of Victaulicís grooved-pipe jointing system has led to substantial cost saving in the new factory of Airbus at Broughton in North Wales.
Ease of installation, leading to significant cost and time savings at the new Airbus factory in Broughton, North Wales, have been achieved using the Victaulic grooved-pipe jointing system.
Building-services contractor Haden Young specified the Victaulic system for this design-and-build project. Joints from 80 to 450 mm diameter were used to connect a multitude of high-tech systems, which included condenser, chilled, low-temperature, hot and boosted-cold water applications.
This massive factory assembles the wings for the new double-decker A380. The wings are made in sections, the largest of which is 42 m long and 6 m wide. The 20 sections for each wing are assembled and delivered to the final-assembly line in Toulouse, France.
Victaulic Flexible joint and Rigid Zero-Flex joints were used to connect both painted carbon-steel and galvanised-steel pipework.
This combination of joints addressed the need for both movement and rigidity in the range of systems.
Flexible joints also cater for thermal movement, so that devices traditionally used to absorb movement could be designed out of the system, helping to reduce costs.
Zero-Flex joints were used for long, straight pipe runs where minimum movement occurs.
Tel. 01462 443322
enquiries@victaulic.co.uk
comments powered by

Disqus