Tests loosen constraints on novel earth clamp
Published: 13 January, 2007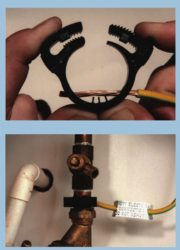 Satsifying all the electrical BS 951, Eaton Electric's Ezybond earth clamp.
Following rigorous testing in an independent ASTA-accredited laboratory, Eaton Electric's Ezybond earth clamp for metal pipework has been shown to meet all the electrical testing requirements of BS 951. It has also undergone additional tests for electrical short circuit and overload, aging, thermal cycling, heat resistance (glow wire and ball pressure tests), humidity and conductor retention.
Frank Sayers, Eaton's product manager explains the reason for the tests. 'BS 951, the British Standard for earth clamps used to connect equipotential bonding conductors to gas, water and central-heating pipes stifles innovation by referring only to metallic earth clamps.'
The Ezybond earth clamp cuts installation time by at least 60%. However, because it is not made of metal as required by the standard, it has not been as widely adopted as would otherwise be the case.
Ezybond is a single-piece, C-shaped, UV-stabilised nylon moulding. It is clamped around the pipe and holds the bonding conductor firmly in direct metal-to-metal contact. There are versions for pipes of 15 and 22 mm with conductor sizes from 2.5 to 10 mm2.
Eaton offers a certificate of conformity to designers, enabling these clamps to be used in accordance with BS 7671 [the Wiring Regulations]. A copy can be downloaded from www.mem250.com. BS7671 provides for the use of new material and inventions which depart from the requirements of the regulations, provided the safety of the installation is not less than that obtained by compliance. The departure from the regulations must be noted in the electrical installation certificate.
comments powered by

Disqus