First UK installation for Daikinís Mini VRVII-S system
Published: 09 October, 2004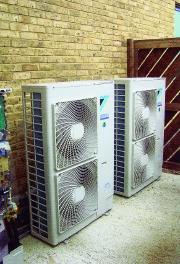 A new air-conditioning system for a new project ó a commercial complex on the South Downs marks the first UK installation of Daikinís new Mini VRVII-S air-conditioning system.
The first UK installation of Daikinís R410A mini VRVII-S air-conditioning equipment serves a cooling load of 109 kW for the new Wood House commercial complex at Woodlingdean in East Sussex. Developed by Westridge Construction at a cost of £1.8 million, the 2-storey complex on the South Downs is U shaped and zoned into four self-contained areas on each floor with a view to multiple-tenant letting.
The air conditioning comprises eight inverter-driven heat-pump systems with cooling capacities from 14 to 15.5 kW and heating capacities from 16 to 18 kW. They supply conditioned air via 24 fan-coil units concealed in the ceilings and linked by lengths of spiral ducting to square diffusers.
The north face of the building is curved and glazed from top to bottom. Additional Daikin R-410A Super Inverter ceiling-concealed ducted splits (one per floor) are installed to cope with the high heat gains. A further R410A Super Inverter concealed ceiling ducted split serves the frontally glazed south-facing ground-floor reception area.
Tempered air is supplied to each zone by a Daikin VAM heat-reclaim units in which the temperature and humidity of incoming air is modulated to match prevailing indoor conditions and reducing the heating or cooling load imposed on the system.
There is a single wall-mounted controller in each zone, with 7-day timer and set points for internal temperature.
The system was designed and installed by Aircomm Services.
www.daikin.org.uk
comments powered by

Disqus