Rettig integrates ventilation with radiator heating systems
Published: 02 May, 2004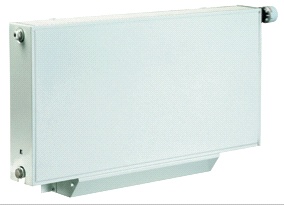 Installed neatly under and behind a Rettig Compact or Plan radiator, the Purmo Air ventilation unit addresses ventilation issues by delivering warmed and filtered air.
A system to improve ventilation in buildings such as offices, hotels, schools and homes without compromising comfort has been introduced to the UK by Rettig Heating. The concept was developed to address growing health concerns such as asthma and toxic mould associated with inadequate ventilation in increasingly airtight buildings.
The Purmo ventilation unit is installed behind a radiator such as the Rettig Compact or Plan VKO models on an outside wall and delivers filtered and heated fresh air to the space. An extract fan in the ceiling provides the necessary air movement. Paths for the air to flow around the building are provided by installing grills in doors in air gaps above the doorsills. It is not necessary for every radiator to be fitted with a ventilation unit, nor for every room to include one.
The concept has been used in Scandinavian countries for a number of years and has been developed to comply with the European Standard EN442. Suitable radiators can have a Purmo ventilation unit added easily, since the forward movement of the radiator is said to be so small that the plumbing is not affected.
Air is drawn in through a 100 mm diameter duct, which can have a flow limiter inserted into it if required. The specially designed filters can be easily cleaned and replaced.
Although the air movement around the radiator effectively increases its output, the radiator should be size to deliver a heat output equal to the total of the heat losses from the room and the ventilation.
To achieve the best performance from the radiators, pressure difference in the room should not be too high, and this will depend on the relative leakiness of the building. The shape and size of the air duct behind the radiator combined with the outlet grille creates pressure loss, which would be included in design calculations.
uk@rettigheating.co.uk
For more information on this story, click here:May 04, 70
comments powered by

Disqus